Walking the Talk of Sustainability
Henry Vilas Zoo takes its commitment to conservation and sustainability seriously and believes strongly in leading by example. In addition to educating guests, we have initiatives throughout the Zoo grounds, ensuring we are "walking the talk" of sustainability.
Zoo Buildings
All buildings being designed are incorporating LEED (Leadership in Energy and Environmental Design) standards and being built with sustainable principles in mind, including recycling waste construction material whenever possible. Some of our green building initiatives include:
The bathrooms in the middle of the Zoo include large windows to provide significant natural lighting during daylight hours, while LED lights were installed for additional lighting when needed.
Modulating condensing natural gas boilers throughout the zoo. These boilers increase combustion efficiency to about 96%, up from 80% efficiency in non-condensing boilers.
Geothermal heat used in the Red Barn.
New glass with a high insulation value was installed in the Rhino Barn.
Automatic water-saving faucets and electric hand dryers for reduced paper use were installed in the bathrooms.
A water bottle filling station was installed to cut down on guest use of disposable water bottles.
50% of our lawn areas have been converted back to the original woodland cover.
Bicycle Benefits
Did you know the Henry Vilas Zoo participates in the Bicycle Benefits Madison, WI program? Ditch your car and reduce emissions by riding your bike to the zoo, all while getting great discounts at local businesses. We reward bicyclists with 25% off food at our Glacier Grille and concessions stands and 20% purchases at our Gift Shop. Just bring in your Bicycle Benefits helmet sticker to receive the discount!
Cell Phone Recycling
Time to upgrade your cell phone? Not sure what to do with your old phone? Bring it to Henry Vilas Zoo's Visitor Center! We are a drop-off point for Eco-Cell, an electronic gadget recycling company. Eco-Cell accepts cell phones, smartphones, iPods, iPads, tablets, adapters, chargers, MP3 players, and handheld gaming systems and the accessories that come with them. They are a no landfill company and any items that cannot be reused are recycled via R2 certified, or better, reclamation companies.
Solar Power
Henry Vilas Zoo uses solar energy to power 20 pathway lights around the Zoo grounds, most of which include signage to educate our guests.  In addition, there are solar cell (photovoltaic) panels on our Seal and Administration buildings that generate power, and solar hot water heaters on the Herpetarium and Red Barn.
Marathon Engine
Henry Vilas Zoo has a strong working relationship with Madison Gas and Electric and together we are continuing to work on sustainable initiatives. Through this partnership, the Zoo installed a Marathon Engine, produced locally by Marathon Engine Systems in East Troy, WI, in the Aviary. The engine converts natural gas into electricity and releases heat as a byproduct of the gas combustion (a process called co-generation). The generated electricity goes into the MGE grid. The resulting heat is captured in water that gets shunted to the Aviary's boiler system. The boilers are then heating "pre-heated" water, rather than cold water, saving both energy and money.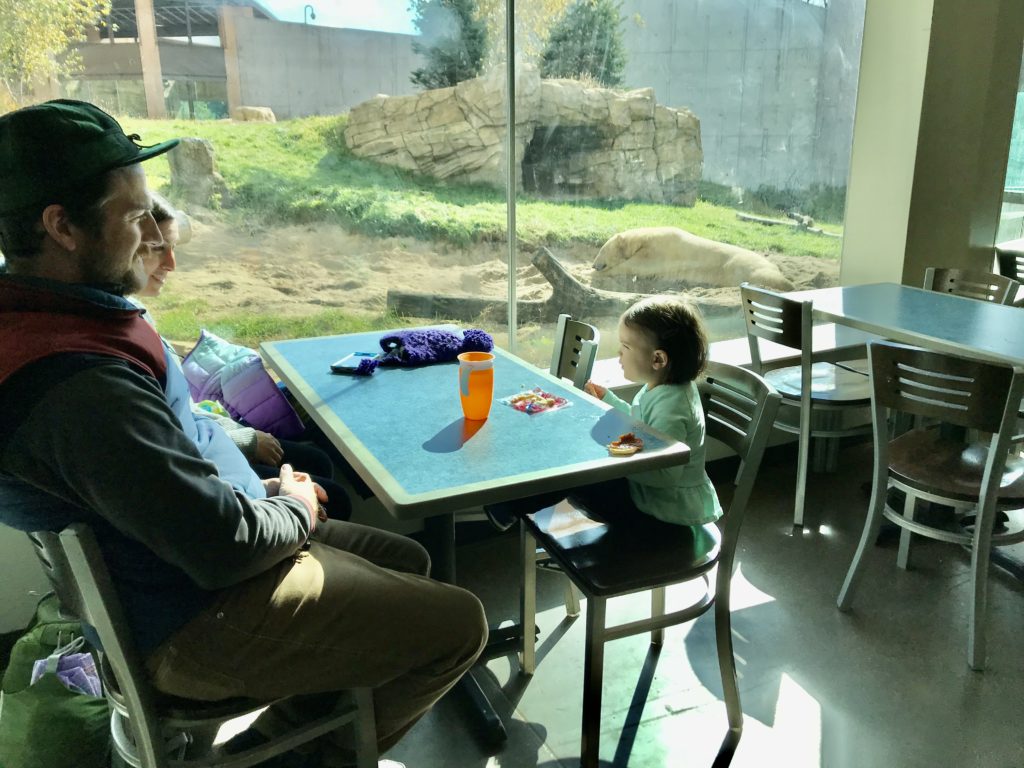 Glacier Grille
The Zoo's Glacier Grille is also committed to "walking the talk" of sustainability!
The spoons, forks, and knives used are made from plant-based, biodegradable material. Additionally, the non-souvenir beverage cups and ice cream containers are compostable. You won't find any single-use plastics (such as straws or beverage lids) to limit unnecessary plastic entering into the environment.
That's not all. Any excess food waste and scraps are composted as well.
Water Usage
Henry Vilas Zoo has an underground water storage system for the two large pools located in the Arctic Passage exhibits. This system is estimated to save over 2 million gallons of water annually over the previously used dump and fill pool systems in the bear and seal exhibits. In fact, after the completion of the Arctic Passage, we saw a reduction in water use of almost 7 million gallons, which has been sustained for two years.
Rain barrels located throughout the Zoo help reduce water usage.
Conservation Partners
Alongside our conversation partners, Henry Vilas Zoo is working to help protect our wildlife and educate our communities on why conservation matters. Explore our partners below and find ways to get involved in our efforts!