Re-Purposed Poaching Snare Program
The saola is a critically endangered mammal endemic to the Annamite Mountains of Laos and Vietnam.
It's disappearing primarily due to poaching in its habitat for animals that have value on the black market. At Henry Vilas Zoo, we have partnered with the Saola Working Group (SWG) to raise funds for saola conservation and turn something terrible into something beautiful.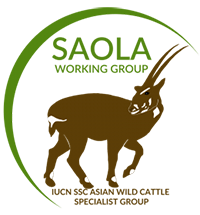 The Education Department receives poaching snares that have been collected by anti-poaching teams in Laos and Vietnam. We clean them up and convert them into unique, handcrafted goods (dream catchers, key chains, and ornaments/wall hangings) to sell and raise funds for the SWG.
The funds are used to train more anti-poaching teams, which has a two-fold impact:
It helps provide local people with an alternative livelihood as they work toward mitigating the impact poachers are having on the unique Annamite Mountain ecosystem while ensuring those individuals are not forced to resort to poaching to earn their livelihood.
Local women hand-embroider saola squares, which our volunteers turn into small bags and other fabric crafts. This is a great way for us to involve the women in the area, as anti-poaching teams are primarily composed of men.
Crafts like these are available for purchase during our Conservation Awareness Days as well as in the Gift Shop at Henry Vilas Zoo.