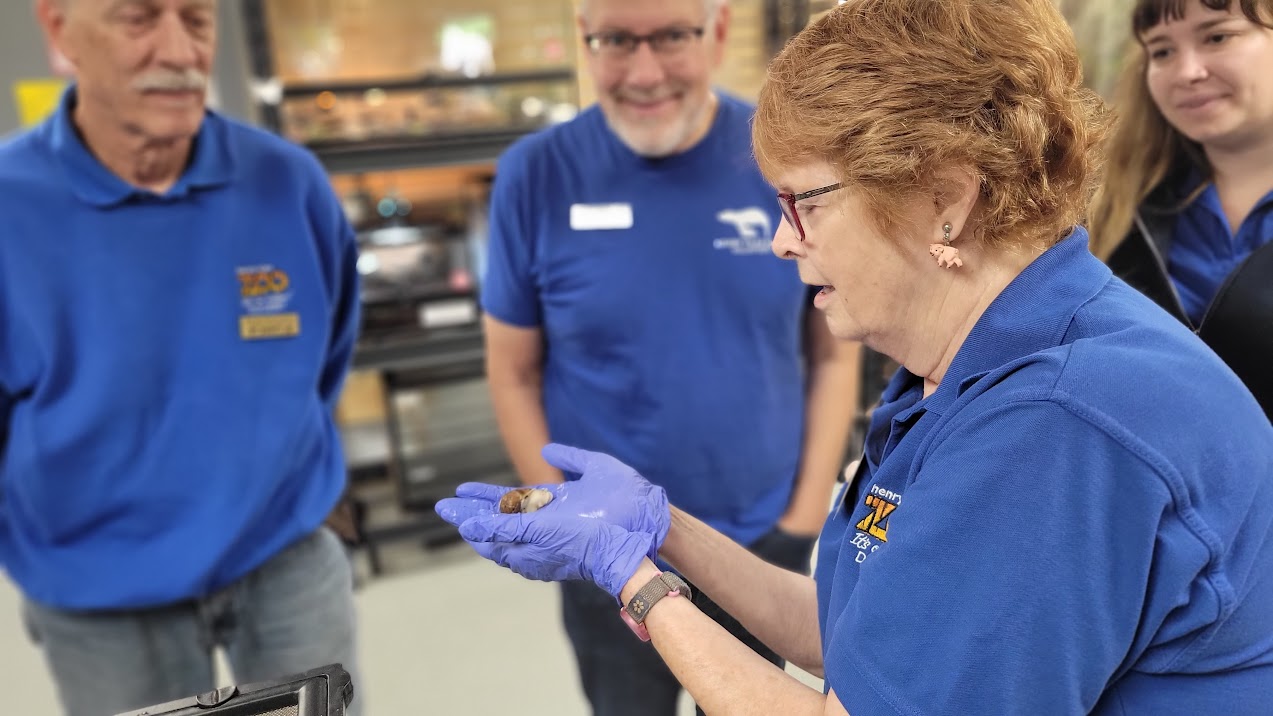 ROLE SUMMARY
AAD Mentors are leaders in our education and volunteer programs. Working closely with our Education and Animal Care staff, Mentors work with other AAD volunteers to train and advise them on their animal handling skills.
"Just seeing the kids faces light up when they get that close to some of these animals is so memorable and lovely."

Pat, Animal Ambassador Docent Mentor
RESPONSIBILITIES
See Animal Ambassador Docent responsibilities
Teach and evaluate new and experienced AADs on animal handling skills and knowledge
Keep up-to-date on current HVZ ambassador animal guidelines
Possible: train & mentor new Wildlife Champions and potential new AADs
Volunteering For All
---
Requirements & Skills

Able to clearly communicate HVZ guidelines and handling techniques in a variety of ways
Patience
Excellent listening skills
Able to observe and give constructive feedback
---
Prerequisites

Approval by HVZ Education Staff
Tier Check-offs: Must be checked off on Tier 1 animals and the majority of Tier 2 animals
---
Time Commitment

12-16hrs/mo: Mentors commit to a weekly shift of 3-4hrs for one year.
Mentors spend much of the year helping to train and check-off AAD's. They may also take a portion of the summer to train in and check off Wildlife Champions &/or aspiring AAD's.
---
Training

All of these trainings are available as refreshers at any point upon request.

Evaluation with Education Staff
---
Attendance Policy

Attendance: Because staff, volunteers and program participants depend on this role for training and check-offs, it is imperative that any Mentor be available for the majority of their scheduled year. Interested volunteers should be in close communication with HVZ Education Staff regarding availability and dates.
---
AAD Mentor Application
Applications for AAD Mentors are available upon request from the HVZ Education Manager or Education Outreach Coordinator.