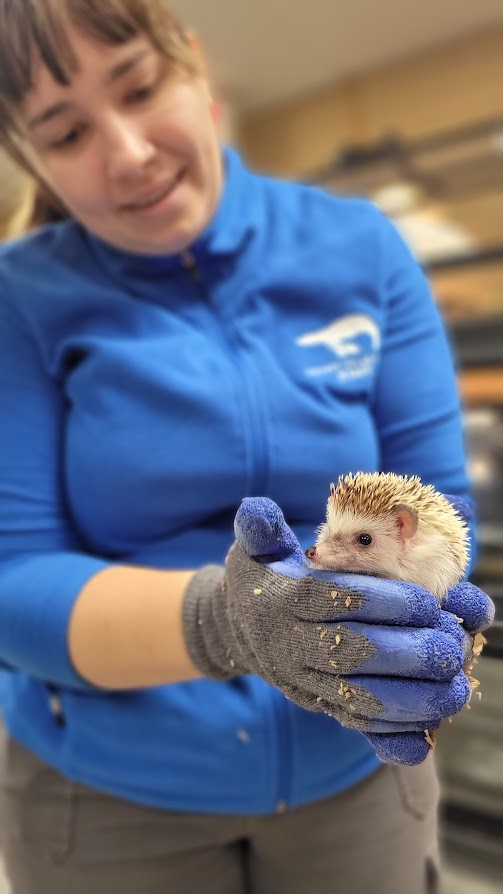 ROLE SUMMARY
Animal Ambassador Docents (AADs) introduce our Education Animals to our guests! Docents teach guests about animal care, conservation, wildlife and more! Working with our Education Department and, at advanced levels, with our Keepers, AAD's are responsible for safely handling Education Animals, keeping up-to-date notes on each handling session, and cleaning any supplies used during programming.
This role is best suited for those who have an appreciation of, and passion for, conservation education, animals and youth. While previous animal handling experience is a plus, it is not required. What is required is a readiness to listen to and learn from the humans and animals with whom you work.
"Besides getting to hang out with super cool animals, I love being an Animal Ambassador Docent because I enjoy sharing stories that strengthen the connection between humans and animals, hopefully sending guests away with the empathy and the tools to be wildlife advocates. It feels great to go home at the end of the day and know that I have made a difference."

Darcy, Animal Ambassador Docent
RESPONSIBILITIES
Handle and present Education Ambassador animals for onsite and offsite HVZ programs
Demonstrate proper animal handling techniques, multitasking abilities, and interpretive skills
Maintain the safety of our education animals, members of the public, yourself and other volunteers
Utilize empathy and interpretation training to help guests connect with animals
Use engaging body language
Ask open-ended, exploratory questions
Use vocabulary appropriate to the age of the guest
Learn about and teach guests about HVZ animals and conservation efforts
Teach guests about conservation actions they can take to care for wildlife and the environment
Complete an annual review of animal handling, presentation, and knowledge skills with Conservation Education staff
Commit to a regular, weekly shift to maintain animal handling and presentation skills
Volunteering For All

AAD's are required to be flexible in a variety of different spaces. Programs on grounds are held in our outdoor Education Pavilion, inside the Discovery Center or within our Guest Services Center. Offsite programs can include spaces such as classrooms, community centers, and even outdoor tables. Volume levels can vary during presentations depending on the size of the group.

This role involves working hands-on with invertebrates, mammals, reptiles and amphibians, and is not suitable for those with phobias or anxiety surrounding animals. This role also presents to groups ranging in size from 5 to over 100, and may not be suitable for those with social anxiety.
---
This role is NOT for you if…

You cannot make a 16-month commitment to volunteering. Although AAD's commit to one year, many new volunteers forget to plan for the prerequisite hours needed in the summer preceding orientation. You need to be able to be here on a regular basis with minimal time away.
You are hoping to handle any kind of dangerous animals. We want our AAD's to stay safe and healthy, and will not be going anywhere near our dangerous animals.
You're looking for a shortcut. Even if you have an animal care background, you will still be expected to go through the trainings and adhere to safety rules along with every other volunteer. There are no shortcuts.
You want to cuddle animals. The AAD volunteer program is concerned with teaching guests about conservation, and animal behavior and welfare. If you're looking to cuddle animals, the Dane County Humane Society has some excellent opportunities for you!
---
Requirements & Skills

18+ by the time of the orientation
Must be able to attend the fall orientation: October 5th, 2024
Able to commit to one year of service between October 2024-2025.
Able to follow animal-handling policies and procedures as set by the Henry Vilas Zoo Education Department.
Friendly and engaging personality
Able to confidently present relevant/approved animal information to large groups (up to 100 people) and one-on-one
Dependable. As the department is self-funded through public programs, we depend on our volunteers to be present and ready. When you are scheduled for a presentation, we are counting on you to be there.
---
Prerequisites

Gate Greeting – All AAD's start their first year off with three Gate Greeting shifts. This is to help WC's get familiar with volunteering, using the radio and working with guests before they venture out into the Zoo.
Wildlife Champion – Prospective AAD's must complete at least 20hrs of Wildlife Champion shifts before the October orientation. This will start all AAD's off with a very firm foundation in guest services, conservation education, empathy and interpretation before handling live animals.
---
Time Commitment

12-16hrs/mo: Animal Ambassador Docents commit to a weekly shift from the time they start in October 2024 to the following October 2025

AAD's spend the winter months training and shadowing with HVZ staff and AAD Day Captains. In the springtime things ramp up quickly in April as end-of-the-year fieldtrips and Zoo-to-You requests come pouring in. Summer is filled with weekly onsite and event opportunities. Summer is also the time when returning AAD's assist in mentoring and training new 2024 Wildlife Champion volunteers.
---
Training

All of these trainings are available as refreshers at any point upon request.

Online

Radio Training (40-50min)
Volunteer Expectations (15-20min)
Intro to the Association of Zoos & Aquariums (20min)
Volunteer Software Basics (5-10min)
Empathy & Interpretation Basics (1hr)
Zoonotic Disease Prevention (20min)
Intro to Animal Welfare (1hr)

In-Person

Onsite orientation (1hr) – Meet other volunteers, and HVZ Staff, guided Zoo tour, radio practice
Wildlife Champion shadowing & practice (2-2.5hrs)
AAD Orientation (4hrs)
Regular practice & mentoring with staff and experienced Mentor Docents
---
Attendance Policy

While the time commitment for this role is weekly for a year, we also recognize that we are working with human beings who have lives, families, etc.

In the event that a volunteer is unable to make it in for any reason, the volunteer is responsible for scheduling a make-up date.

In the event that HVZ cancels a program for any reason, we will contact our AAD's to make other plans. This will count as an excused absence and the volunteer will not be required to make it up.
---
Animal Ambassador Application
Applications for 2024 Wildlife Champion will be going up Thursday, February 1st, 2024 at 12PM.
You can be the first to get the notification by joining our email list here.