Overview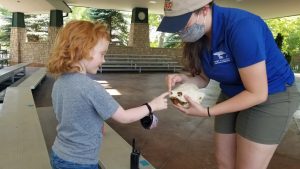 ***This role is currently unavailable due to high numbers of volunteers. Please still let us know if you're interested. We're always happy to talk to you about all roles. We expect to begin recruiting and placing for this role again in January 2022.***
Do you love to teach people? Do you love to talk animals and conservation? Then Wildlife Champion is for you!
Wildlife Champions (WC) use information sheets and artifact carts to share animal, habitat, and conservation information with guests on grounds during the course of the day. They may also attend on/off grounds events as well. Being a WC is less about spitting out facts at guests, and more about helping guests connect with our animals. All new WC's undergo a 1hr training with our Education Specialist focusing on empathy development and interpretation techniques. Copies of info sheets are provided ahead of time for study. Volunteers also have access to San Diego Zoo's Global Academy online – featuring dozens of free courses to help them become more informed WC's.
Interested volunteers must complete a prerequisite of 10hrs of Gate Greeting before starting WC shifts. This helps new volunteers get used to HVZ volunteering before heading out on grounds, and ensures that they'll be more comfortable answering Zoo-related guest questions.
Shift Times
Every Day 10AM-12PM, 12-2PM, 2-4PM
Time Commitment
A minimum of a twice monthly commitment is required.
Age Requirement
Must be at least 14 years old by the end of the training. Youth ages 10+ can volunteer in this role with a parent/guardian.
Apply Now
Responsibilities
Present information relevant to the active carts, utilizing the information available on the cart or information found via approved sources
Be a friendly and engaging representative of Henry Vilas Zoo through on- and off-grounds engagements
Qualifications
Ability to be open and engaging with guests
Ability (or ability to learn) to present approved animal, habitat, and conservation information one-on-one and in small group settings. You will receive general training and links to additional information for this
Training
Online general orientation, online COVID-19 training, Zoom interpretation training, and mentored shift
Benefits
Meet people with similar interests, build Zoo, animal, and volunteer experience on your resume, and network with the community; help create lasting memories for Zoo guests, volunteer nametag and t-shirt, regular educational volunteer meetings, and recognition events
Reports To
Henry Vilas Zoo Volunteer Coordinator