Overview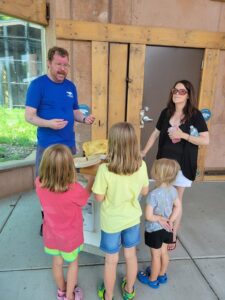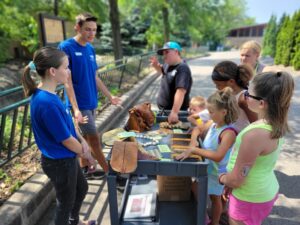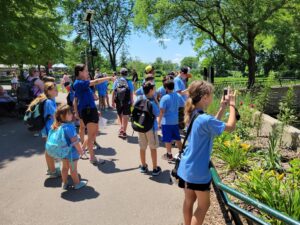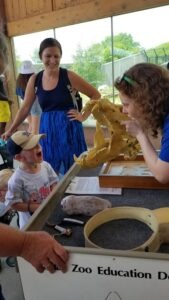 THIS POSITION IS NOW FULL FOR 2023! Ongoing roles will open up again for next season in February of 2024. In the meantime, you can fill out a Volunteer Interest Form here to get on the email list that has animal updates, event volunteer opportunities and more!
Wildlife Champions (WC) are the conservation educators of the Zoo! They stand outside animal enclosures and teach guests about our animals. However, this is more than just spitting out facts. All WC's receive training in basic empathy-building and interpretation communication techniques that help our guests better connect with and understand our animals. Rather than wait for guests to ask them questions, they start the conversations and invite passerby to learn more about not just animals, but also conservation.
This role is perfect for those who are outgoing and enjoy talking with many people of all different ages and backgrounds. Wildlife Champions do not give scheduled presentations. Instead, WC's are constantly engaged in informal education chats with interested guests – who are free to come and go as they explore the Zoo. As a WC, you could find yourself talking with two adults or twenty kindergarteners! So, you should be comfortable with crowds and have the ability to change your vocabulary accordingly.
It is extremely important to us that all of our Wildlife Champions are well-informed and trained before going on grounds. All WC's must complete three initial shifts as Gate Greeters as an introduction to HVZ and volunteering. They must also then complete a one hour training with our Education Specialist focusing on empathy development and interpretation techniques. All WC's use animal information packets to guide them during volunteering, and packets are made available ahead of time for study. Volunteers also have access to San Diego Zoo's Global Academy online – featuring dozens of free courses to help them become more informed WC's.
Shift Times
10AM-12PM, 12-2PM, 2-4PM
Time Commitment
Once a week with three different season options: April through September, Memorial Day through September, or Memorial Day through Labor Day
Age Requirement
10-13yrs w/ parent/guardian; 14yrs+ to volunteer individually
Apply Now
Responsibilities
Start conversations with interested guests and answer questions about animals, conservation and zoos
Learn about HVZ animals and conservation efforts (we provide this information for our volunteers)
Qualifications
14yrs+ to volunteer individually, 10-13yrs to volunteer with a parent/guardian
Complete 10hrs of volunteering in a guest-facing role (Goat Yard, Gate Greeting, or Train/Carousel)
Complete 1hr empathy/interpretation training with our Education Specialist (Zoom sessions held regularly throughout the year)
Comfortable with public speaking, crowds, and starting conversations with strangers
Enjoy teaching your community about animals, conservation and zoos
Training
On-site training (1 of 4 options): Friday, April 24th, Saturday, April 25th, Friday, May 19th, OR Saturday, May 20th
Online trainings: HVZ General Orientation, Empathy & Interpretation Basics
Benefits
Meet people with similar interests, build Zoo, animal, and volunteer experience on your resume, and network with the community; help create lasting memories for Zoo guests, volunteer nametag and t-shirt, regular educational volunteer meetings, and recognition events
Reports To
Henry Vilas Zoo Volunteer Coordinator