Overview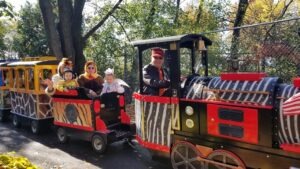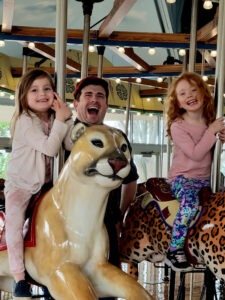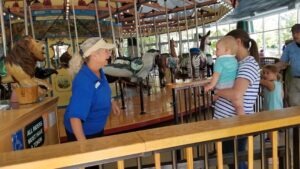 THIS POSITION IS NOW FULL FOR 2023! Ongoing roles will open up again for next season in February of 2024. In the meantime, you can fill out a Volunteer Interest Form here to get on the email list that has animal updates, event volunteer opportunities and more!
Train & Carousel Crew make wonderful experiences for our kids and families all throughout the season. As part of our 4-person volunteer crew, along with HVZ attending staff, you'll be welcoming our families, acting as a conductor on a short train trek, and operating our unique conservation carousel.
This role is perfect for those who love working with kids. The best part of volunteering with the Train & Carousel Crew is getting to feel like you're a grandparent (no matter your age!) to thousands of excited littles. For many of our kids and adults, the rides at HVZ are some of their fondest memories. Ring the giant cowbell to get the carousel started. Yell, "All ABOARD!" as you start up the train. And make memories of your own!
Part of the fun is feeling like a part of the team. As a Train & Carousel volunteer you'll receive several online orientations as well as onsite training (Yes! You get to drive the train!). You'll form connections with the three other members of your volunteer team, and will receive support from HVZ staff attendants throughout the season. Lunch & Learns with keepers and other zoo professionals will be available throughout the season, and all Train & Carousel volunteers will be invited to our annual Volunteer Appreciation Night.
Shift Times
10AM-1PM, 1PM-4PM
Time Commitment
Once a week
Age Requirement
18yrs or older. *Volunteers 14-17 may volunteer with a parent/guardian; however, may not drive the train or operate the carousel. They MAY welcome guests, get kids excited about the rides, take tickets, and ensure guests are seated properly before the ride begins.
Apply Now
Responsibilities
General Tasks:
Happily greet & welcome Zoo guests
Always be pleasant to guests; smiles go a long way!
Know the rules of the rides forward and backward; maintaining a focus on safety.
Assist with ride set up, cleanup and maintenance before, during or after shift
Communicate with Supervisor on duty as needed in emergency, in case of maintenance needs, etc
Maintain focus on Henry Vilas Zoo customer service standards
Train Engineer
Drive Train
Assist in Loading of Passengers
Communicate Required Safety Messages
Train Conductor
Greet Waiting Guests
Take Tickets
Help Load/Unload Train
Carousel Operator
Operate Carousel
Remain Within Reach of Emergency Shut-off Button During Ride Operation
Take Tickets
Greet Guests at Entrance and Exit of Ride
Qualifications
Generally able to switch between sitting and standing comfortably.* (Please talk to us if you need accommodations. This is certainly something we do with all our T/C volunteers.)
Train volunteers must be able to tolerate warm, sunny weather and cool weather. (train doesn't operate in rainy weather)
Friendly & conscientious
Outgoing, patient & self-confident
Enjoy children and families
Enjoy working as part of a team
Training
General orientation (online), role-specific training (on grounds)
Benefits
Volunteer outside at the Zoo, meet new friends, help create lasting memories for Zoo guests, experience in operating amusement rides, volunteer t-shirt, volunteer nametag, recognition event(s)
Reports To
Henry Vilas Zoo Volunteer Coordinator & Train/Carousel Attendant