Overview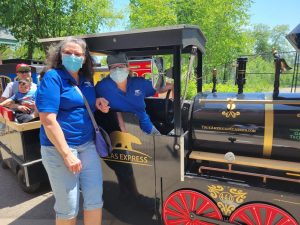 ***This role is currently unavailable due to high numbers of volunteers. Please still let us know if you're interested. We're always happy to talk to you about all roles. We expect to begin recruiting and placing for this role again in January 2022.***
Don't just join the fun, make it! Train/Carousel volunteers help make our Children's Zoo what it is. Working as a team, volunteers rotate among each other to help:
Welcome guests and thank them for riding
Take tickets and helping riders get on/off safely
Operate the carousel
Drive the train
This is a wonderful experience for anyone looking to make friends with a team as the volunteer. All train/carousel volunteers receive regular support from a supervisor throughout their shift.
Train/Carousel volunteers must be able to switch between sitting and standing comfortably.
Shift Times
9:30 am – 1:00 pm (4) Monday, Tuesday, Thursday and Saturday 1:00 pm – 4:30 pm (4) Monday, Tuesday, Thursday and Saturday (Breaks will be coordinated by the Supervisor on duty.)
Time Commitment
A minimum of a twice monthly commitment is required. Minimum season-long commitment is 25 hours. Must be available for the entire shift.
Age Requirement
Must be 18 years of age or older
Apply Now
Responsibilities
General Tasks:
Happily greet & welcome Zoo guests
Always be pleasant to guests; smiles go a long way!
Know the rules of the rides forward and backward; maintaining a focus on safety.
Assist with ride set up, cleanup and maintenance before, during or after shift
Volunteers are expected to be available for all four volunteer roles
Communicate with Supervisor on duty as needed in emergency, in case of maintenance needs, etc
Maintain focus on Henry Vilas Zoo customer service standards
General Responsibilities (Operations Procedures outline details):
All Positions
Assist with clean-up procedures before, during or after shifts
Train Engineer
Drive Train
Assist in Loading of Passengers
Communicate Required Safety Messages
Train Conductor
Greet Waiting Guests
Take Tokens
Help Load Train
Carousel Operator
Operate Carousel
Remain Within Reach of Emergency Shut-off Button During Ride Operation
Take Tokens
Greet Guests at Entrance and Exit of Ride
Cashier
Sell tokens & 6-ride passes using Square
As time allows, share details about Henry Vilas Zoological Society membership
Qualifications
Must be able to stand for mid-length periods and walk short distances throughout a 3.5 hour shift. Train volunteers must be able to tolerate warm, sunny weather and cool weather. (train doesn't operate in rainy weather)
Friendly & conscientious
Ability to closely follow established guidelines
Outgoing, patient & self-confident
Enjoys children
Training
General orientation and specific training with daily supervisor. Will need to be signed off on the checklist of responsibilities. Additional training may be provided by supervisor on-duty as-needed
Benefits
Volunteer outside at the Zoo, meet new friends, help create lasting memories for Zoo guests, experience in operating amusement rides, joy of "thrilling" volunteer t-shirt, volunteer nametag, recognition event(s)
Reports To
Henry Vilas Zoo Volunteer Department and Daily Supervisor