Overview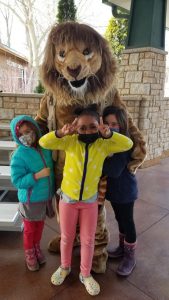 ***While we've finished recruiting for most of our roles for 2021, we are always up for training in more Henrys to join the pride. Henry has no minimum hours commitment. Rather, once volunteers are trained in, they get to determine which Henry shifts they sign up for. Please do contact us if you're interested.
Henry the Lion and his handlers are a staple of any visit to the Henry Vilas Zoo. If you're an enthusiastic person who enjoys making kids smile and being goofy, then Henry is for you.
Henry and his handler walk Zoo grounds on clear days giving high-fives to kids, waving at our guests, and participating in many a photo-op. Henry volunteers may be called up to attend a variety of special events – both on and off grounds. These events include, but are not limited to:
HVZ Run Wild
HVZ Boo at the Zoo
HVZ Zoo Lights
Community Celebrations
Expos
Parades
Sporting Events
Ribbon Cuttings
All Henry volunteers must be able to walk and stand while wearing a mascot costume for 30-60min at a time. Henry Handlers must also be able to walk and stand for 30-60min at a time.
Shift Times
10am – Noon daily. Also other times as requested that may include special on-grounds and community events.
Age Requirement
Minimum age 14
Apply Now
Responsibilities
Happily engage with Zoo guests by guiding Henry around the Zoo
Provide verbal communication to Henry telling him where people are coming from since he can't see well.
Encourage the guests to approach Henry, give high-fives, dance with Henry or take pictures as Henry is unable to talk.
Repeat conversation and questions to Henry as it's hard to hear while in the costume
Qualifications
Able to stand for 2 hours at a time
Able to work outside in all weather spring-fall (except in hazardous or overly-cold situations)
Able to provide direction to Henry both in navigation and communication
Ability to have fun
Friendly and engaging personality
Able to stay calm in an emergency situation
Training
General orientation, specific training and mentored shift.
Benefits
Volunteer outside at the Zoo, meet new friends, help create lasting memories for Zoo guests, volunteer t-shirt, volunteer nametag, recognition event(s).
Reports To
Henry Vilas Zool Volunteer Department