Overview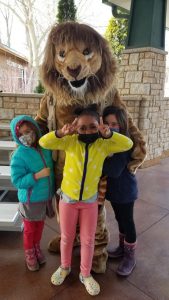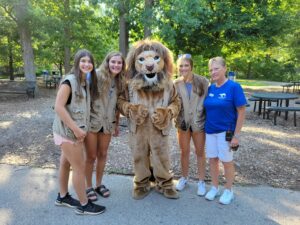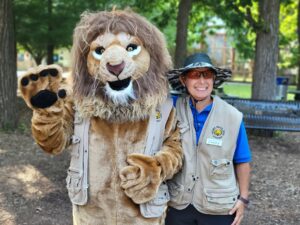 We are looking for Henry the Lions and Handlers for the year! Are you free one day a month between June and August? And one special event of your choice during the year? Then read below to find out more!
Henry the Lion and his handlers are a staple of any visit to the Henry Vilas Zoo. If you're an enthusiastic person who enjoys making kids smile and being goofy, then Henry is for you.
Henry and his handler walk Zoo grounds on clear days giving high-fives to kids, waving at our guests, and participating in many a photo-op. Henry volunteers may be called up to attend a variety of special events – both on and off grounds. These events include, but are not limited to: HVZ's Run Wild, Boo at the Zoo & Zoo Lights, holiday celebrations, parades, and even sporting events. Henry does NOT do private parties outside those run on site through HVZ.
Shift Times
Shifts vary depending on event need
Age Requirement
Minimum age 14
Apply Now
Responsibilities
Henry
Greet guests of all ages with high-fives, handshakes, and, when asked for, hugs
Pose for photos
Listen and communicate with the handler to maintain an awareness of your surroundings
Henry's Handler
Happily engage with Zoo guests by guiding Henry around the Zoo
Provide verbal communication to Henry telling him where people are coming from since he can't see well.
Encourage the guests to approach Henry, give high-fives, dance with Henry or take pictures as Henry is unable to talk.
Repeat conversation and questions to Henry as it's hard to hear while in the costume
Qualifications
At least 5′ 2″
Friendly and engaging personality
Able to stay calm in an emergency situation
A good, working knowledge of Zoo grounds
The ability to enthusiastically mime feelings
Excellent listening & communication
Able to walk and stand while wearing a mascot costume for 30-60min at a time. Henry Handlers must also be able to walk and stand for 30-60min at a time.
**While not required, we do prefer you have a partner to do this role with you. We can sometimes provide handlers or Henry's, but it's much easier if you already have a partner.
Training
General orientation, specific training and mentored shift.
Benefits
Volunteer outside at the Zoo, meet new friends, help create lasting memories for Zoo guests, volunteer t-shirt, volunteer nametag, recognition event(s).
Reports To
Henry Vilas Zool Volunteer Department