Overview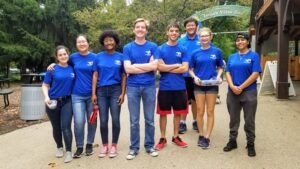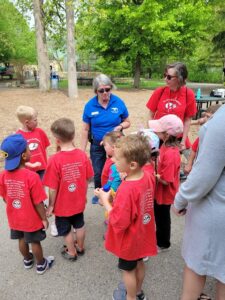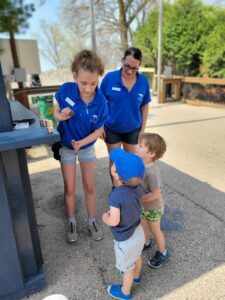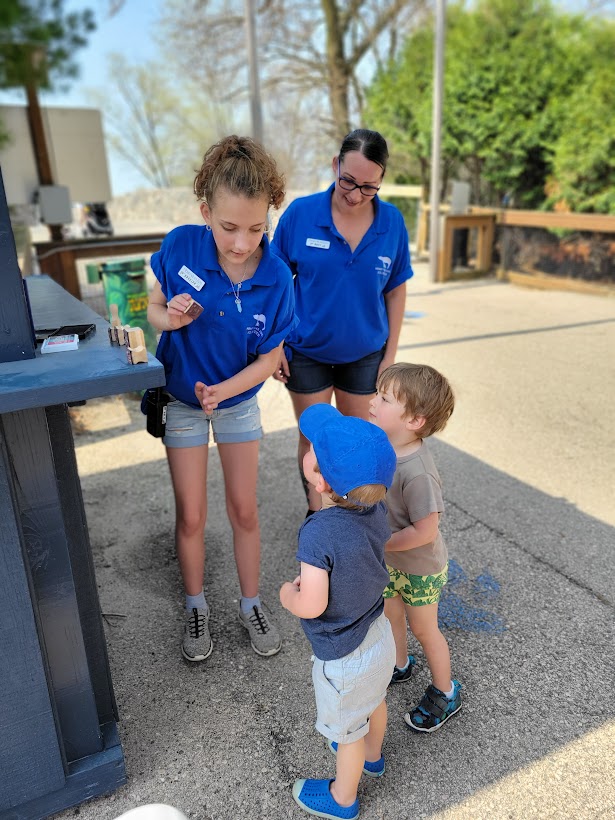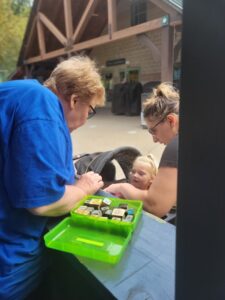 THIS POSITION IS NOW FULL FOR 2023! Ongoing roles will open up again for next season in February of 2024. In the meantime, you can fill out a Volunteer Interest Form here to get on the email list that has animal updates, event volunteer opportunities and more!
Gate Greeters help make our zoo welcoming! By providing a warm, friendly welcome for guests, Greeters help ensure that HVZ is a place where people can laugh, relax and have fun! As a Greeter, you'll be welcoming guests, answering questions about HVZ, assisting with guest needs (i.e. wheelchairs, strollers, sensory bags, etc.), giving out animal hand stamps to the littles, and loving what you do.
Gate Greeting is best for outgoing and enthusiastic personalities. This is because Greeters work to start the conversation – they don't wait for guests to approach them with questions. If you're comfortable with things like welcoming guests, asking them if this is their first visit, or asking littles what animals they're going to see, then this role is perfect for you.
It's important to us that our volunteers feel just as much a part of HVZ as any staff member. As one of our front-facing team members, you'll be required to complete several trainings to prepare you for all the eventualities of a guest service role. This includes several online trainings covering radio training, HVZ information and a guest services intro. We'll also host an initial onsite training in March or May (depending on your chosen start date). Throughout the summer you'll also have the opportunity to take part in a variety of online and in-person learning opportunities. The season will wrap up in August and September with our annual Volunteer Appreciation Night.
Shift Times
9:30AM-12PM, 12-2PM, 2-4PM
Time Commitment
Once a week with three different season options: April through September, Memorial Day through September, or Memorial Day through Labor Day
Age Requirement
10-13yrs w/ parent/guardian; 14yrs+ to volunteer individually
Apply Now
Responsibilities
Welcome guests as they enter the Zoo & thank them for coming
Direct guests to their favorite animals, keeper chats and other important areas of the Zoo (e.g., restrooms, concession stands, gift shop)
Invite guests to support the Zoo through membership, education programs, volunteering or donating
Give out hand stamps to kids and kids at heart
Qualifications
Able to stand or sit for 2-2.5 hours at a time
Able to work outside in all weather spring-fall (except in hazardous or overly-cold situations)
Friendly and engaging personality
Excellent customer service skills.
Able to be understood over Zoo radio
Able to provide clear directions throughout Zoo
Able to stay calm in an emergency situation
Patient
Self-confident
Enjoy meeting new people and starting conversations

Anyone who speaks a second to multiple languages is highly encouraged to apply. Our guests come from all different linguistic backgrounds, and we love being able to welcome them in whatever language they prefer

Excellent communication
Training
General orientation (online), role-specific training (on grounds), mentoring
Benefits
Volunteer outside at the Zoo, meet new friends, help create lasting memories for Zoo guests, volunteer t-shirt, volunteer nametag, recognition event(s)
Reports To
Henry Vilas Zoo Volunteer Coordinator