Overview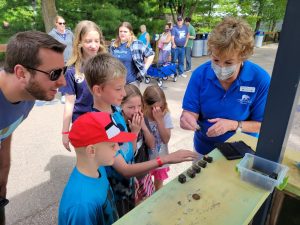 ***This role is currently unavailable due to high numbers of volunteers. Please still let us know if you're interested. We're always happy to talk to you about all roles. We expect to begin recruiting and placing for this role again in January 2022.***
Our zoo is open to all, but Gate Greeters help make it welcoming. By providing a warm, friendly welcome for guests, Greeters help ensure that HVZ is a place where people can laugh, relax and have fun! Greeters:
Welcome guests & thank them for donating
Answer questions about HVZ and our animals
Assist with guest needs (i.e. wheelchairs, strollers, sensory bags, etc.)
Give out animal hand stamps to the littles (and those celebrating their inner child)
Love what they do
Shift Times
9:30AM-12PM, 12-2:30PM, 2:30-4:30PM
Time Commitment
A minimum of a twice monthly commitment is required.
Age Requirement
14+ (10+ with an adult)
Apply Now
Responsibilities
Staff the gate located at the Zoo's entrances
Happily greet and welcome Zoo guests and thank them for coming
Introduce guests to our Phase 1 reopening changes (one-way path, masks required, building closures, etc.)
Invite guests to support the Zoo through a donation or on-grounds purchase
Answer Zoo guests' Frequently Asked Questions (FAQS)
Direct guests to their favorite animals and other important areas of the Zoo (e.g., restrooms, concession stands, gift shop)
Qualifications
Able to stand or sit for 2-2.5 hours at a time
Able to work outside in all weather spring-fall (except in hazardous or overly-cold situations)
Friendly and engaging personality
Excellent customer service skills.
Able to be understood over Zoo radio
Able to provide clear directions throughout Zoo
Able to stay calm in an emergency situation
Patient
Self-confident
Bilingual in Spanish/Hmong, or proficiency in ASL, would be wonderful but not required
Training
Online general orientation, COVID-19 training, and on-grounds training will be provided
Benefits
Volunteer outside at the Zoo, meet new friends, help create lasting memories for Zoo guests, volunteer t-shirt, volunteer nametag, recognition event(s)
Reports To
Henry Vilas Zoo Volunteer Department