Overview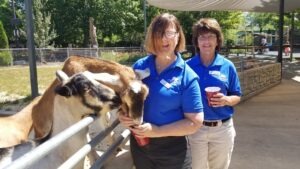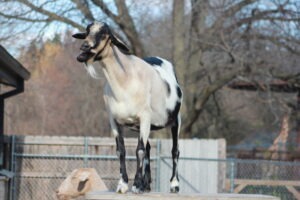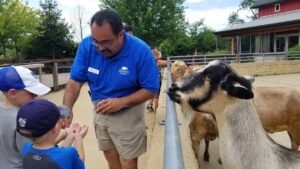 THIS POSITION IS NOW FULL FOR 2023! Ongoing roles will open up again for next season in February of 2024. In the meantime, you can fill out a Volunteer Interest Form here to get on the email list that has animal updates, event volunteer opportunities and more!
Join the herd! Goat Yard Attendants invite our younger and younger-at-heart guests to meet our goats up close. Volunteers hand out food & brushes, teach guests the goats' names and answer many questions from the littles (ex. "Why are their eyes like that?" "Will they eat my hat?"). They are in charge of opening and closing the yard for the day, and of engaging the many school groups that come to visit the yard every season.
This role is for those who live for a bit of organized chaos. Our goat yard is extremely popular and is often the must-see on the zoo list for families with kids and fieldtrips. It isn't uncommon for 40+ kids and their chaperones to come flocking to the yard all asking questions at once. Volunteers in this role should enjoy kids, goats, and the Venn diagram of adventure the two form when put together.
Despite the commotion, as a Goat Yard Attendant you'll never be left to your own devices. As part of our HVZ team, you'll complete several online trainings covering radio codes, HVZ information and guest services basics.  We'll also host an initial onsite training in March or May (depending on your chosen start date). Finally, you'll also be joining our Education Specialist for a live Zoom training on empathy and interpretation. Nearing the end of our season in September, you'll be invited to participate in our annual Volunteer Appreciation Night.
Shift Times
10am – 1pm, 1pm – 4pm
Time Commitment
Once a week with three different season options: April through September, Memorial Day through September, or Memorial Day through Labor Day
Age Requirement
10-13yrs w/ parent/guardian; 14yrs+ to volunteer individually
Apply Now
Responsibilities
Greet and welcome Zoo guests
Invite guests to feed or brush the goats
Answer guest's questions about the goats
Open the yard in the morning or close in the afternoon
Communicate with Zoo staff regarding guest safety and other needs
Skills
Excellent guest service skills.
Able to be understood over Zoo radio
Able to stay calm in an emergency situation
Anyone who speaks a second to multiple languages is highly encouraged to apply. Our guests come from all different linguistic backgrounds, and we love being able to work with them in whatever language they prefer.
Qualifications
Enjoy interacting with kids – both human and goat.
Enjoy meeting new people and starting conversations.
Able to stand or sit for 3 hours at a time
Able to work outside in all weather spring-fall (except in hazardous or overly-cold situations)
Friendly and engaging personality
Training
On-site training (1 of 4 options):
- Friday, April 24th
- Saturday, April 25th
- Friday, May 19th
- Saturday, May 20th

Online trainings:
- HVZ General Orientation
- Empathy & Interpretation Basics
Reports To
Henry Vilas Zoo Volunteer Coordinator