Overview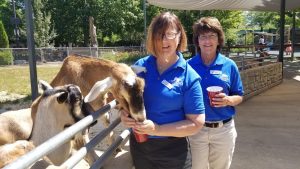 ***This role is currently unavailable. Please still let us know if you're interested. We're always happy to talk to you about all roles. We expect to begin recruiting and placing for this role again in January 2022.***
Goat Yard is an excellent place to be for those who love to interact with guests and animals. Guests have the opportunity to feed and pet our goats, while learning more about them and getting answers to popular questions (Why are their eyes like that? What are their names? Do they really eat cans?)
Goat Yard volunteers:
Open/Close the yard each day
Welcome guests
Teach guests how to feed and brush the goats
Answer guests' questions about the goats
Have fun!
Shift Times
10am – 1pm, 1pm – 4pm
Time Commitment
A minimum of a twice monthly commitment is required. Minimum season-long commitment is 25 hours. Goat Yard open Spring - Fall.
Age Requirement
Must be at least 14 (with parental permission if under 18). 10+ when working with an adult
Apply Now
Responsibilities
Happily greet and welcome Zoo guests
Communicate with Zoo staff if safety concerns arise
Offer to have guests help brush the goats and show them the various items related to these animals to help them gain information about them
Answer Zoo guests' Frequently Asked Questions (FAQS) about the goats
Raise awareness of how goat feeding support Zoo operations and other ways that guests that provide needed support the Zoo, including Friends of the Zoo membership
Qualifications
Ability to be open and engaging with guests
Ability (or ability to learn) to present approved animal, habitat, and conservation information
Ability to volunteer in all weather conditions
Able to convey clear directions and information to visitors
Training
General orientation, Goat Yard training, and mentored shift
Benefits
Volunteer outside at the Zoo, meet new friends, help create lasting memories for Zoo guests, volunteer t-shirt, volunteer nametag, recognition event(s)
Reports To
Henry Vilas Zoo Volunteer Department