Overview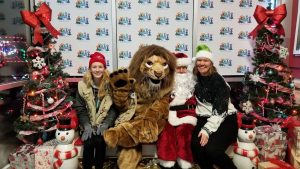 We love our event crew! Event volunteers help us make our Zoo fun during and after hours. They get the chance to experience HVZ when we bring out all the stops for holidays, conservation days and private rentals. Event volunteering requires little to no training, and is a great way to experience the Zoo without the long term commitment.
Upcoming 2021 events include, but are not limited to:
– Corporate Nights
– Run Wild (Sunday, September 26th)
– Boo at the Zoo (Sunday, October 31st)
– Zoo Lights (November 24th, Fridays-Saturdays November 24th-December 19th, Daily December 20th-December 30th)
Event volunteers must be able to volunteer outside for 2-4hrs at a time.
Shift Times
Varied, generally evenings and weekends
Time Commitment
A minimum of 3 events per year.
Age Requirement
Must be 16+ (18+ for certain positions)
Apply Now
Responsibilities
Meet with staff at the start of the event to obtain specific information to their role including:
Assist with set-up and clean-up
Welcome guests
Run the goat yard
Register participants
Direct guests and vendors
Help with line control
Serve hot chocolate/s'mores
And more! It depends on the event!
Qualifications
Ability to work with others and take direction
Hard-working and dependable
Able to work outside in all weather spring-fall (except in hazardous or overly-cold situations)
Friendly and engaging personality
Able to lift 25-50 pounds (necessary for some tasks)
Excellent customer service skills
Able to be understood over Zoo radio
Attention to detail
Ability to make independent decision to aid guests
Experience with technology and money handling a plus
Training
Short Orientation
Benefits
Participate in out of the ordinary encounters and experiences, network with the community; help create lasting memories for Zoo guests, and recognition events.
Reports To
Volunteer Department