Overview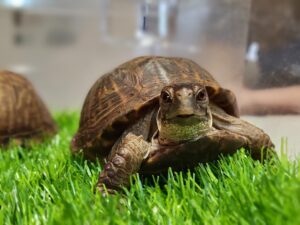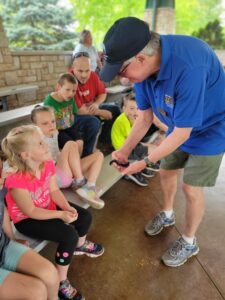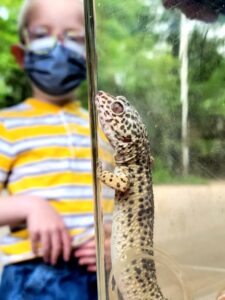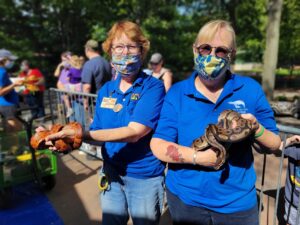 THIS POSITION IS NOW FULL FOR 2023! Ongoing roles will open up again for next season in February of 2024. In the meantime, you can fill out a Volunteer Interest Form here to get on the email list that has animal updates, event volunteer opportunities and more!
---
Animal Handling Docents (AHD) introduce our Education Animals to our guests! Docents teach guests about how zoos care for animals, conservation, wildlife and more! Working with our Education Department and, at advanced levels, with our Keepers, AHD's are responsible for safely handling Education Animals, keeping up-to-date notes on each handling session, and cleaning any supplies used during programming.
HVZ's Animal Handling Docent program is one of the most involved volunteer roles you can have. Individuals who are accepted into the AHD volunteer program dedicate themselves to one year of service. This year consists of animal handling training and mentoring, as well as courses in empathy, interpretation and animal welfare.
Orientation for AHD's who have completed their prerequisites begins each fall. Docents receive mentoring throughout the winter and begin participating in on/offsite programs by April. Over the summer, AHD's will occasionally act as mentors for that season's Wildlife Champions – helping welcome in a new group of conservation education volunteers.
This role is best suited for those who have an appreciation of, and passion for, conservation education, animals and youth. While previous animal handling experience is a plus, it is not required. What is required is a readiness to listen to and learn from the humans and animals with whom you work.
---
Animal Handling Docent FAQs
What kind of animals will I be handling?

Our Education Animals do change depending on a variety of factors; however, currently our AHD's work with: Madagascar hissing cockroaches, giant African millipedes, corn snakes, ball python, bearded dragon, Egyptian tortoises, box turtles, red-footed tortoises, uromastyx, leopard gecko, hedgehog

Can I skip animals?

No. We do not allow volunteers to skip handling animals. All AHD's work with all Education Animals.

I want to work with [insert dangerous animal here]!

No. In the gentlest, but most firm way possible. Not only do we love our volunteers and want them to be safe, but here at HVZ we practice protected contact with our dangerous animals. Even our animal care staff do not have direct contact with dangerous animals. This is for both human and animal safety.

Can my group and I come do animal handling for a day?

No. Our animals are individuals just like you. Just like you, our animals don't enjoy being picked up by total strangers. Our AHD program is designed to allow animals to get to know and build trust with volunteers, and vice versa

I want to be a zookeeper. Is this the first step in a pathway to a job?

No, but it's a very good start! Our volunteering program does not necessarily act as a career pathway to employment with HVZ. However, we do have AHD's who have gone on to apply for a variety of animal care and conservation education roles (at HVZ and other organizations) who have used their time as volunteers to prepare them for these roles.

What if I have a vacation/doctor's appt/etc. planned on one of my volunteering days? Can I still be a AHD?

Yes! We understand that you have a life outside the Zoo, and try to be understanding of occasional days you may need to miss.
Shift Times
9AM-1PM, Wednesdays or Thursdays
Time Commitment
x1/wk, October 2023 to October 2024
Age Requirement
18+ by the time of the orientation (October 7, 2023)
Apply Now
Responsibilities
Present educational programs to Zoo visitors, visiting school groups, and in the community at a variety of events hosted by schools and other community organizations
Handle Zoo education animals according to policies and procedures set by the Henry Vilas Zoo Education Department
Demonstrate proper animal handling techniques, multitasking abilities, and interpretive skills.
Maintain the safety of our education animals, members of the public, yourself and other volunteers
Be a friendly and engaging representative of Henry Vilas Zoo through on- and off-grounds engagements.
Qualifications
18+ by the time of the orientation
Must be able to attend the fall orientation: October 7th, 2023
Minimum 1yr of availability starting in the fall of 2023
Complete prerequisite 3 sessions of Gate Greeting
Ability to follow animal-handling policies and procedures as set by the Henry Vilas Zoo Education Department.
Friendly and engaging personality
Ability to multi-task
Ability to confidently present relevant/approved animal information to large groups (up to 100 people) and one-on-one
Ability (with training) to maintain the safety of education animals and guests
Dependable. As the department is self-funded through public programs, we depend on our volunteers to be present and ready. When you are scheduled for a presentation, we are counting on you to be there.
Complete an annual review of animal handling, presentation, and knowledge skills with the Conservation Education Curator
Regularly volunteer and practice animal handling to maintain skills (A lapse of three months or more requires them to pass an animal handling review with the Conservation Education Curator in order to resume volunteering.). Docent and Education Program Assistants skills are monitored and assessed by the Conservation Education Curator, Day Captains, and Mentor Docents throughout the year.
Training
Onsite: Prerequisite 3 sessions of Gate Greeting, Animal Handling Docent Orientation
Online: HVZ General Orientation, Empathy & Interpretation, Animal Welfare
Reports To
Henry Vilas Zoo Volunteer Department and Henry Vilas Zoo Education Curator