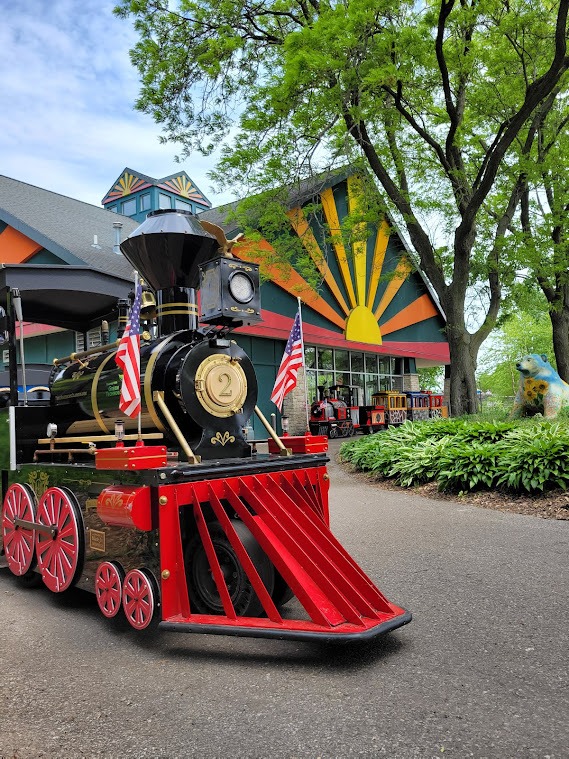 ROLE SUMMARY
Our Train/Carousel volunteers absolutely make the visit for many of our guests – young and young-at-heart alike. Work as part of a team with other volunteers and HVZ staff to get everyone safely all aboard! Responsibilities range from ticket taking to running the rides to bringing cheer to even the most tired toddler. This is an excellent role for those who enjoy children and families, who have patience and understanding, and who prefer working as part of a team.
"My best day at the Zoo was after a carousel ride when one of the little boys got off, gave me a hug and thanked me for the ride."

Ellen, Train/Carousel Volunteer
RESPONSIBILITIES
Welcome guests to the rides
Take tokens
Help guests get on/off the rides safely
Operate the carousel
Drive the train
Actively engage with guests as they wait to ride
Thank guests for riding
Communicate with HVZ Staff (Train/Carousel Attendants) regarding ride maintenance/safety, guest needs, and volunteer needs as they arise
Assist staff and other volunteers during guest-related radio calls (ex. keeping a child calm and comfortable, talking with parents, etc.)
Occasionally use the radio to assist other staff and/or volunteers with guest-related issues
Volunteering For All

The HVZ Train & Carousel is located close to the parking lot along Vilas Park Dr. HVZ staff are available all throughout the shift to support volunteers when needed. A small office is located within the carousel and often serves as a quiet/dark break area for volunteers and attendants. The closest bathroom is in the center of the Zoo just outside the Children's Zoo. All surfaces are even, and accessible by wheelchair. The HVZ Train & Carousel is a high-sensory area due to the lights, loud music/sounds and high guest numbers, and may not be suitable for those with sensitivities to light and sound.
---
Requirements & Skills

At least 18 years of age
A valid driver's license
Able to lift at least 20lbs
Able to focus on one thing at a time
Able to easily switch between sitting and standing, and to quickly respond in the event of an emergency
Enjoys working with children and all the challenges they bring
Enjoys finding ways to help people smile
---
Time Commitment

9hrs/mo: Train/Carousel Crew members commit to a weekly shift with a minimum of x3 shifts/mo from the time they begin through September.
The Train/Carousel Crew is most busy May through September. Shifts are available in April and October for those volunteers who want to catch the first field trips of the year, or for those who want to enjoy quieter times when we have more local littles enjoying the fall weather with their adults.
---
Training

All of these trainings are available as refreshers at any point upon request.

Online

Intro to Zoo Attractions (10-15min)
Radio Training (40-50min)
Volunteer Expectations (15-20min)

Introduction to the Association of Zoos & Aquariums (20min)
Volunteer Software Basics (5-10min)

In-Person

Onsite orientation (1hr) – Meet other volunteers, and HVZ Staff, learn how to safely operate the train/carousel, short tour of other Children's Zoo habitats
---
Weather Policy

Being inside, our carousel will run in all types of weather. Our train runs on an electric motor, and cannot be operated in rain, through heavy snow/mud/ice, or in temperatures under 45 degrees Fahrenheit. In the event that we are unable to run our train/carousel due to weather or mechanical-related troubles, we will alert our volunteer crew that they can take an excused absence.
---
Train/Carousel Crew Application
Applications for 2024 Train/Carousel will be going up Thursday, February 1st, 2024 at 12PM.
You can be the first to get the notification by joining our email list here.