***Sign-ups for this project will go up on Friday, December 1st, 2023 at 12PM. Be the first to know on our Volunteer Email list here!
---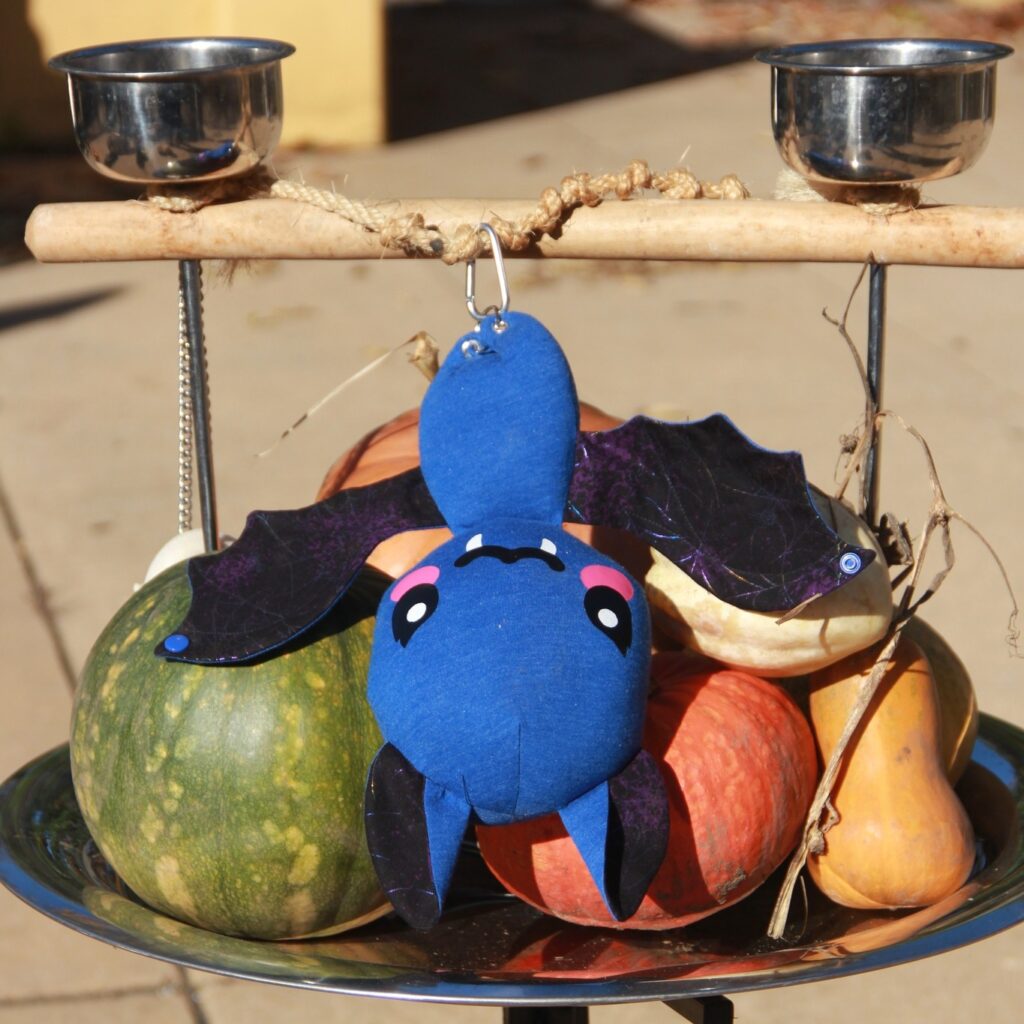 ROLE SUMMARY
Each winter Henry Vilas Zoo volunteers transform our supply of event shirts into stuffed animals that raise money for a pre-determined conservation partner each year. The goal is to draw attention to fabric waste, reuse materials, and raise conservation awareness.
This year we'll be constructing our own bat colony! Finished bats will be available for adoption for our Party for the Planet celebration in May of 2024, and all proceeds will go to supporting a bat conservation partner (TBD soon)!
Sewing Stuffies for Survival is HVZ's largest remote volunteer project – supported by volunteers all over Dane County and Wisconsin. We're so happy to be able to include those who want to give back, but for whom time, distance, physical limitation and/or weather would otherwise be a barrier to volunteering.
"My grandson and I had such a fun time constructing our stuffies this year! I did the hard stuff, and he put on the decorations. We can't wait for next year's pattern!"

Jean, S3 Volunteer
---
Volunteering for All

This project is remote, and all construction work is done outside of Henry Vilas Zoo. Volunteers receive a window when they can come pick up their supplies at the HVZ Guest Services building at the Drake/Randall entrance to the Zoo. Volunteers can set their own schedules as they work on their stuffies at home. We only ask that they have their stuffie(s) turned in by the due date – TBD, but usually around 2 months after the pick-up time. During the sewing time, we will host a Zoom meeting for sewers to meet each other, ask questions and share ideas.

This opportunity lends itself well to many skill levels. It can be done individually, or as part of a pair/team. The pattern this year is good for someone with advanced-basic to intermediate level sewing skills to do independently or be the lead on as a pair/team.
---
Requirements & Skills

16+ to fill out the application and/or act as the lead of a group. Otherwise, all ages welcome. 🙂
Comfortable with curved sewing, darts, fusible web applique, ladder stitch, basting, and top-stitching
Able to read and speak English (However, the pattern is very visual. It may be easily workable for an accomplished sewer without written instructions.)
---
Time Commitment/Time Line

Volunteers have about two months to complete the project from the time of pick-up to the time of drop-off.

The time on each bat ranges greatly by the experience of the volunteer and the amount of details volunteers would like to include. Last year we had rhinos that took 2hrs each. We had rhinos that took 20hrs each. It just depends on what you want to do and how long you want to spend on your stuffies.

December 1, 2024 Applications go up on the website
Late January Shirt pick-up at Henry Vilas Zoo Guest Services
Late February Optional Zoom check-in (so we can get advice and share ideas!)
Late March to early April Project drop-off at Henry Vilas Zoo Guest Services
Early May (Date TBD) Party for the Planet! Bats up for adoption!
---
What Volunteers Provide

Any sewing supplies and tools necessary to complete the project
---
What HVZ Provides

Printed instructions and pattern
Shirts – they are new shirts that have never been worn and been pre-washed. Fabric is cotton, but ranges in texture from fairly firm to more stretchy. Volunteers choose their shirts at pick-up. It is first-come, first-served.
Online support from the HVZ Volunteer Coordinator and HVZ Staff
Access to HVZ Volunteer Updates – sent bi-weekly with information on volunteer opportunities, animal news and upcoming events
Discounts at our Gift Shop and Glacier Grille for the duration of the project
---
FAQs

Can you mail me the supplies? We are unable to mail shirts or instructions. All HVZ-provided supplies must be picked up in person.
What about when I finish? Can I mail my finished bats back to you? Yes! That, we're equipped to do. You can mail your finished bats to 702 S. Randall Ave., Madison, WI, 53715, Attn: Volunteer Central.
I have fabric at home. Can I just start now? While we appreciate your enthusiasm, we ask that you hold off until you can sign up and pick up your shirts. We ask that 90% of the finished stuffie is made of HVZ shirts.
Can I make more than one stuffie? Yes! As long as we have the shirts available, and you're willing, then we're ready for your flying colony.
What if I can't do this? That's okay. We do have volunteers, who, for reasons due to time or skill decide that this is not right for them in the middle of the project. You are welcome to bring back any unused shirts. This will not affect your ability to volunteer with us for anything in the future.
I love my stuffie! Can I adopt my own? Yes! All sewing volunteers and HVZ staff will have the opportunity for early adoption just before Party for the Planet.
---
Sewing Stuffies for Survival Application
Applications for this project will be going up Tuesday, January 2nd, 2024 at 12PM.
You can be the first to get the notification by joining our email list here.