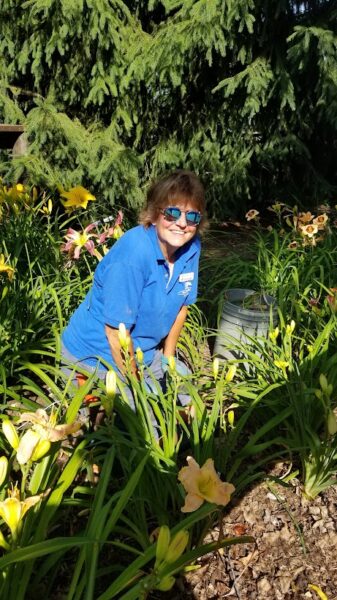 ROLE SUMMARY
Rain Gardeners take special care of our rain garden nestled within the Arctic Passage. With regular greetings from seals and our sandhill crane (Buckbeak), gardeners enjoy the great outdoors while bringing beauty to grounds. Even more importantly, they support our second largest browse garden by caring for several edible trees and hibiscus that go to feeding our animals. Finally, the rain garden also triples as a functioning song bird garden – supporting song birds in the wild with a safe habitat and edible plants.
This is a wonderful role for those with attention to detail who are looking for something a bit more removed from the direct interaction with guests that comes with other ongoing volunteer roles. Work under the guidance and supervision of our Horticulturalist, and join a small team of volunteers as you dig in the dirt – helping with weeding, mulching, raking and light landscaping.
"What's a gardener's favorite novel? War and Peas!"

Mary, Rain Garden Volunteer and Forever Jokester
RESPONSIBILITIES
Weed plants as assigned by the HVZ Horticulturalist
Lay mulch
Assist in seasonal plantings as needed
Collect browse as needed
Water as needed
Learn to identify over 100 native species of plants and weeds
Lend an artistic eye throughout the season
Maintain calm and optimism through even the driest dry spell
Volunteering For All

Rain Gardeners volunteer outside in mostly open sun (though, shade can present itself in the early mornings when the shadows are longer). The rain garden is located at the end of Arctic Passage next to the seal enclosure and Animal Health Center (AHC). The closest public restroom is in the center of the Zoo at the Glacier Grille. The terrain in the rain garden is very uneven with many dips and muddy spots. It is the quietest spot in the entire zoo – with the occasional exception of seal and crane calls.

The rain garden requires attention to detail that would work well with someone who enjoys sitting in one place and hyper-fixating on one task at a time. We have many tiny weeds that will only be defeated by tenaciously pulling them up by the roots. Because most of the work will be weeding, this is excellent for someone who thrives on consistency.
---
Requirements & Skills

At least 18 years of age

Possible consideration for 16+ with a parent/guardian

Strong gardening background
Strong attention to detail
Able to easily switch between sitting and standing
Able to work independently with little supervision
Able to hear and process verbal instructions
---
Time Commitment

9hrs/mo: Rain Gardeners commit to a weekly shift with a minimum of x3 shifts/mo between Late April and the end of September.

Weeding is the name of the game for Rain Gardeners. Weeds grow substantially faster in this type of environment. While there will be other projects, expect consistency throughout the season.
---
Training

All of these trainings are available as refreshers at any point upon request.

Online

Volunteer Expectations (15-20min)

Introduction to the Association of Zoos & Aquariums (20min)
Volunteer Software Basics (5-10min)
Basics of Zoo Horticulture, Safety & Expectations (20min)

In-Person

Onsite orientation (1hr) – Meet other volunteers and HVZ Staff, tour of the Zoo and rain garden, find toolshed & compost bin
---
Weather Policy

Henry Vilas Zoo is open regardless of weather. While we remain open, we trust our Rain Gardeners to decide whether or not they would like to volunteer in light precipitation, cold/hot temperatures, etc. The volunteer is in charge of scheduling a make-up shift in the event they choose to stay home due to weather.

In the event of truly inclement weather, we will call volunteers to cancel. In this case, volunteers do not need to make up their cancelled shift.
---
Rain Garden Volunteer Application
Applications for 2024 the Rain Garden Work Group will be going up Thursday, February 1st, 2024 at 12PM. This role has limited availability due to most of our volunteers returning for another season (yay!).
You can be the first to get the notification by joining our email list here.