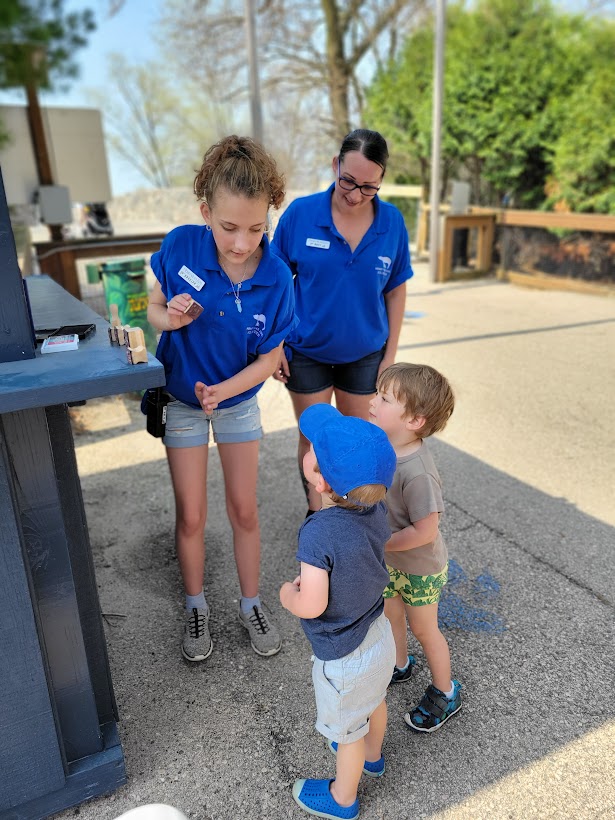 ROLE SUMMARY
Gate Greeters are essential to making Henry Vilas Zoo welcoming and open to all! As a Greeter you'll be standing at either of the two entrances to the Zoo and being the first point of contact for our guests. You'll be actively engaging with the community. This is a perfect role for those who love meeting new people, bringing smiles to kids' faces and getting to experience all manner of questions and curious guests.
"I loved interacting with the kids. It's amazing how much they love a hand stamp!"

Laura, Gate Greeting Volunteer
RESPONSIBILITIES
Set the tone of our guests' visit!
Welcome guests into the Zoo
Give out hand stamps to kids (and kids at heart)
Thank guests for donating
Suggest places of interest to guests who haven't been here/in years
Help interpret the map for new guests
Answer general questions and direct guests to the proper resources
Volunteering For All

Gate Greeting volunteers work primarily at the front and/or bridge entrances of the Zoo. Covered information booths are just inside the gates. Greeters have the option of working inside or outside the booths depending on their preference/needs (booths are not wheelchair accessible). The front gate is surrounded by the parking lot, gift shop, bathrooms and Guest Services center. The bridge gate is next to a manned gift shop kiosk, and a short distance from the back parking lot, main bathrooms, and Glacier Grille. This role regularly interacts with guests, and requires volunteers be comfortable engaging in social situations. However, this role is also very flexible, and would be an excellent place to start for those working with a job coach on basic guest services and social skills.
---
Requirements & Skills

At least 14 years of age to volunteer independently; 10-13 with a parent/guardian
Enjoys meeting new people and starting conversations
Enjoys helping people feel welcome and sharing our Zoo with them
Able to sit and/or stand for 2-2.5hrs at a time
---
Time Commitment

8-10hrs/mo: Gate Greeters commit to a weekly shift with a minimum of x3 shifts/mo from the time they begin through August or September.

Gate Greeters are the most busy May through Labor Day. Shifts are available in April and September for those volunteers who want to balance their fast-paced days with some more relaxed times when we tend to get more local visitors.
---
Training

All of these trainings are available as refreshers at any point upon request.

Online

Radio Training (40-50min)Volunteer Expectations (15-20min)

Introduction to the Association of Zoos & Aquariums (20min)
Volunteer Software Basics (5-10min)

In-Person

Onsite orientation (1hr) – Meet other volunteers, and HVZ Staff, guided Zoo tour, radio practice
---
Weather Policy

Henry Vilas Zoo is open regardless of weather. While we remain open, we trust our Gate Greeters to decide whether or not they would like to volunteer in light precipitation, cold/hot temperatures, etc. The volunteer is in charge of scheduling a make-up shift in the event they choose to stay home due to weather.

In the event of truly inclement weather, we will call volunteers to cancel. In this case, volunteers do not need to make up their cancelled shift.
---
Gate Greeter Application
Applications for 2024 Gate Greeters will be going up Thursday, February 1st, 2024 at 12PM.
You can be the first to get the notification by joining our email list here.