WEDNESDAY, OCTOBER 26TH – FRIDAY, OCTOBER 28TH, 9:30AM-11AM
Thank you for joining our pumpkin carving crews for this year! Every year community volunteers help us create pumpkin toys for our animals.
Why pumpkins? Well, for starters, we can't carve bowling balls. And plus, pumpkins are one of the few enrichment items that every animal at Henry Vilas Zoo can have – from carnivores to detritivores!
Take a look at the project details and sign up below. Spots fill up fast, so don't delay!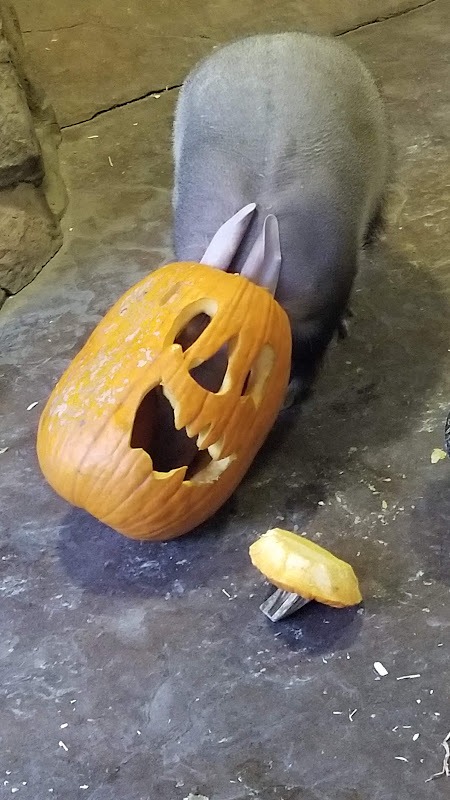 ---
Who can do this?
This opportunity is available for any interested volunteer ages 14+, OR ages 8-13 accompanied by a parent/guardian.
What do I need?
Henry Vilas Zoo will provide each volunteer with 2 pumpkins. Volunteers must provide their own pumpkin carving tools and clothing they don't care about in the likely event that pumpkins spill their guts. Finally, volunteers should provide their own pumpkin designs.
Is there a specific way you want these pumpkins carved?
Other than family friendly – you can let your imagination run wild! Pumpkins will be divided into categories of which ones are going to our large carnivores, hoofstock, little critters, etc. That way, you can get an idea of how your creation might be used. It may be crushed, crawled in, chewed, rolled, dunked in water, or even stared at very suspiciously – every year is a surprise! Examples from past years have included Halloween themed carvings, the HVZ logo, and even My Neighbor Totoro. Whatever you choose, it should be appropriate and something you can carve within the allotted time (1.5hrs).
Can I bring in pumpkins myself?
Thank you for thinking of us, but we are rolling in pumpkins! We're all set for the year.
I want to see my pumpkin in action!
We'll be giving out pumpkins to our animals as part of our Boo at the Zoo celebration on Saturday, October 29th. We'll have an enrichment schedule posted that day and will also send this list out to carving volunteers. You can come join us for the celebration in person! If you can't join us, keepers are also sometimes able to get photos of enrichment among their other job duties. We'll send out photos if applicable.
---