NOVEMBER 27th through DECEMBER 27th
Open 5:30pm – 8:30pm Fridays, Saturdays, and Sundays from November 27 – December 27
**BONUS NIGHTS** Monday, December 21 through Wednesday, December 23
---
Get ready for one of Madison's most unique holiday traditions! It's been a long year for everyone, but we are ending 2020 with our best Zoo Lights ever! Our all-new Zoo Lights experience will be brighter than ever before. We have brand new animal light displays and can't wait to share them with you. Guests will be able to safely enjoy Zoo Lights along our one-way path throughout the Zoo.
Zoo Lights is open from 5:30pm – 8:30pm Fridays, Saturdays, and Sundays between November 27 – December 27. It takes approximately one hour to walk through the whole Zoo and see all the lights.
$10 per person
Children 3 and under are FREE
$35 for a Group 4-pack
We accept cash and all major credit cards. We will not be accepting checks this year.
---
VOLUNTARY ZOO LIGHTS REGISTRATION!
You can attend Zoo Lights without registering. However, if you register here with your name and email address, it will help us anticipate how many people plan on attending. Plus, we'll keep you up-to-date with any Zoo Lights news or updates!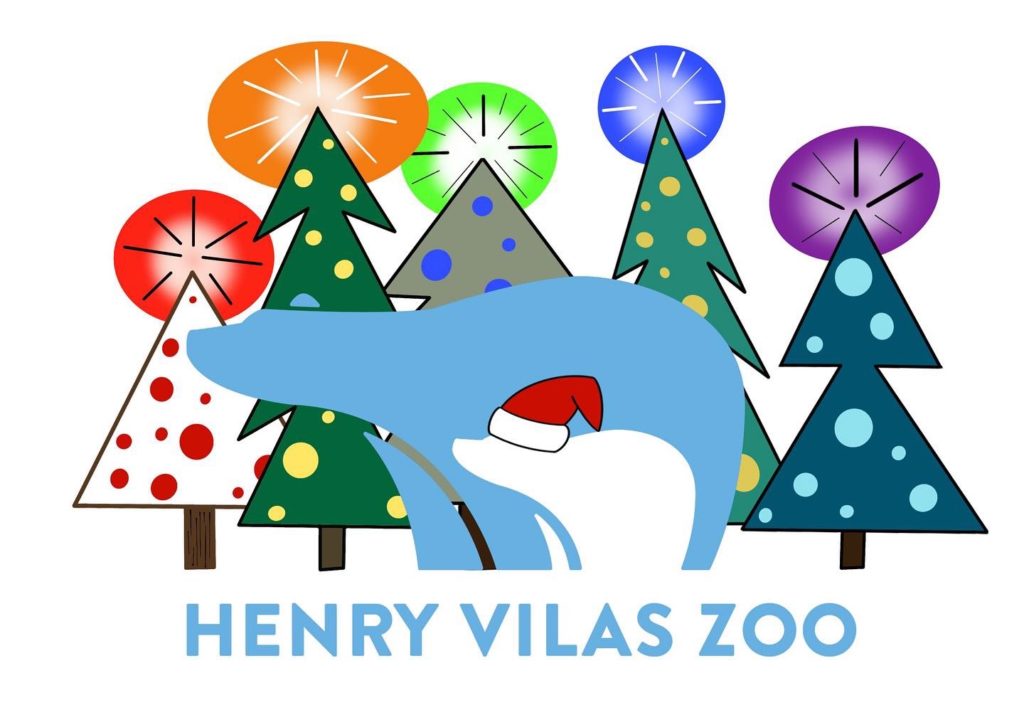 FREQUENTLY ASKED QUESTIONS:
Are both entrances open for Zoo Lights?
No, we currently have a one-way path through the Zoo to prevent crowding. You may only enter through our main gate at the intersection of Randall Ave. and Drake St.
Should I arrive right at 5:30pm?
It takes approximately one hour to walk through the whole Zoo and see all the lights. We usually have a small, socially-distanced line when the gates first open so if you would like to avoid waiting in line, we recommend arriving after 6:30pm.
Can I come to the Zoo during regular hours and just stay for Zoo Lights?
No, in order for us to clean the Zoo and get everything ready for guests, the Zoo gates are closed at 5pm. We reopen the gates at 5:30pm for Zoo Lights.
What if the weather is bad?
Please prepare for winter weather and traffic conditions. Most weather conditions, including light rain and snow, do not prevent us from opening.
Can I buy group tickets?
Please email zoo@henryvilaszoo.gov for more information about group tickets.
Is the carousel open for Zoo Lights?
No, unfortunately, the carousel will not be running due to COVID-19.
Will you have Santa at Zoo Lights?
Santa has a lot of extra work to do this year in order to make safe gift deliveries! We will have a North Pole mailbox for any letters to Santa you want delivered!
Are there any places to warm up during Zoo Lights?
We have outdoor space heaters set up throughout the grounds during Zoo Lights hours.
Are the restrooms open?
Yes!
Can I buy food at Zoo Lights?
Yes! Our Glacier Grille will have a pick-up window and serve grab & go food items.
Is alcohol served?
We will have alcoholic beverages available for purchase for guests 21+.
Are there refunds?
While this is an outdoor event, most weather conditions do not prevent us from running Zoo Lights. Refunds will not be issued for weather unless we have to close. Our highest priority is the safety and comfort of our guests. If we cannot operate due to high winds, heavy rain or snow, thunderstorms, or mechanical issues guests inside the Zoo will be offered a full refund.
Can you see any animals during Zoo Lights?
Even with the Lights, the Zoo is dark at night. Some of our animals, like the bison, do have access to their outdoor areas at night, but they will be difficult to see.
---
COVID PRECAUTIONS:
In addition to our enhanced cleaning protocols throughout the Zoo, all staff working at Zoo Lights will be given temperature checks at the beginning of their shift.
There is a Face Covering Mandate in Dane County. Every individual (5 years of age or older) must wear a face covering over their nose and mouth while inside the Zoo unless you are eating or drinking or have an excused medical condition.
Please do not come to the Zoo if you are experiencing a fever, cough, shortness of breath, or if you have been in contact with a person who is COVID-19 positive.
Due to our COVID-19 safety precautions there will be no Santa Claus visits or carousel rides during Zoo Lights this year. We apologize for any inconvenience.
---
---
Thank you to our generous sponsors!