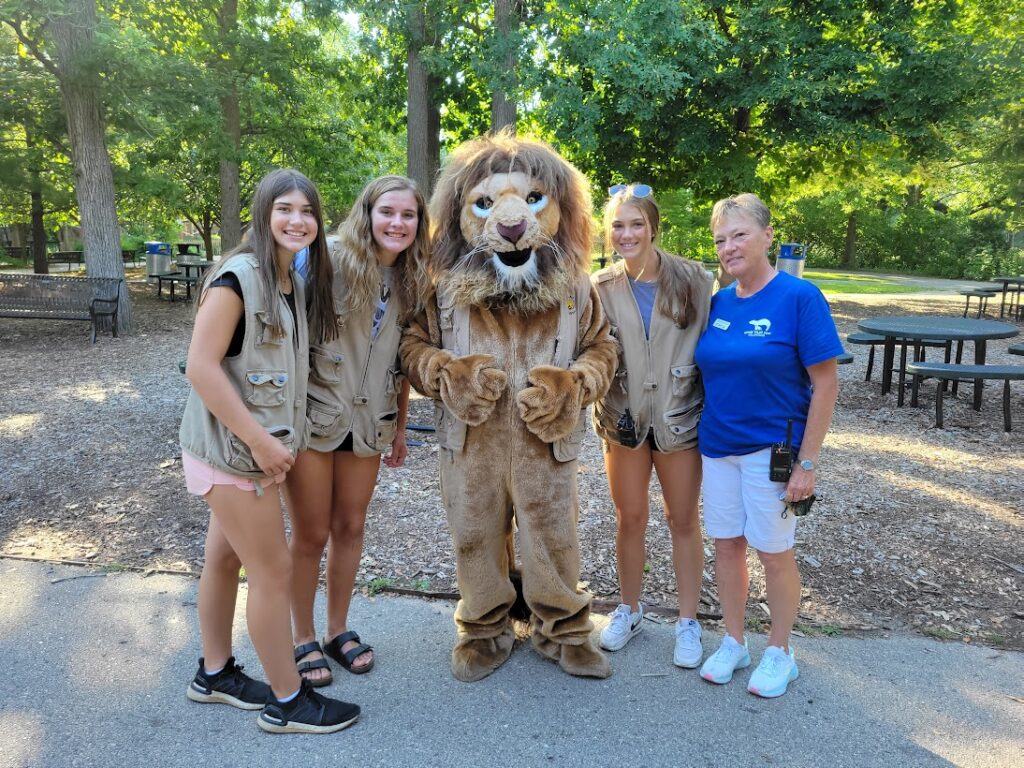 ROLE SUMMARY
Henry the Lion and Handlers are a staple of any visit to the Henry Vilas Zoo. If you're a pair of enthusiastic people who enjoy being goofy and making kids smile, then Henry is for you.
The Henry/Handler team walk Zoo grounds on clear days giving high-fives to kids, waving at our guests, and participating in many a photo-op. Henry volunteers may be called up to attend a variety of special events – both on and off grounds. These events include, but are not limited to: HVZ's Run Wild, Boo at the Zoo & Zoo Lights, holiday celebrations, parades, and even sporting events.
"I gave out so many high fives! Those were some of the most excited kids I've ever seen."

Mark, Henry the Lion Handler
RESPONSIBILITIES
Greet guests at the Zoo gates with a wave and an invitation to meet Henry!
Pose for photos
Mime out appropriate reactions to your Handler's stories and cues
Congratulate kids who interact with Henry – it can be intimidating getting that close to a lion!
Interpret for Henry by explaining his actions.
Be Henry's eyes and ears while in costume. Assist your partner in navigating the many terrains and guest interactions on and off site
Represent Henry Vilas Zoo at onsite and public offsite events
Transport the costume as needed for offsite events
Properly store the costume at HVZ when not in use
Volunteering For All

Henry and his Handler move over all manner of terrain both on and offsite. Henry wears several pieces of costuming, while the Handler wears a vest. Because Henry has no peripheral vision and cannot talk, he must have his Handler with him at all times to assist with interpretation and guidance. Henry is always within easy walking distance to behind-the-scenes access in the event he needs a break. Offsite opportunities also come with a guaranteed changing/storage area, and an onsite contact for the event. It gets very hot inside the Henry costume regardless of outside temperature. The Henry part of this role may not be suited for those with sensitivity to heat. Volunteers in this role should feel comfortable with close proximity to guests – and should expect that unexpected hugs can come with the territory.

**Please note: although Henry is often seen standing, we are more than happy to have a lounging lion in a chair/wheelchair when needed.
---
Requirements & Skills

A team of 2
At least 14 years of age
Able to lift at least 20lbs
Able to sit/stand 1-1.5hrs at a time
Able to focus on one thing at a time
Very comfortable working around many people
Able to communicate positively and clearly
Enjoys acting, miming, improv, and working with kids and the challenges they bring
---
Time Commitment

7.5hrs/mo: Henry/Handler teams commit to a weekly shift with a minimum of x3 shifts/mo between Memorial Day and Labor Day.

2 special events: Henry/Handler teams also commit to a minimum of two special events, either on or offsite, between Memorial Day and December.

Henry and his Handler see some of the busiest times at Henry Vilas Zoo. They are here to great the guests as they enter the Zoo in the mornings. They are also a major part of our large events, as well as several events throughout Dane County.
---
Training

All of these trainings are available as refreshers at any point upon request.

Online

Lion Training Basics (20min)
Introduction to the Association of Zoos & Aquariums (20min)
Volunteer Software Basics (5-10min)

Volunteer Expectations (15-20min)

In-Person

Onsite orientation (1hr) – Meet other volunteers, and HVZ Staff, learn how to safely put on and take off the Henry costume, practice inside the costume
---
Weather Policy

Henry does not come out in weather that is warmer than 90 degrees Fahrenheit. He also does not go out in precipitation of any kind or onto muddy/puddle-covered terrain. In the event of inclement weather, we will call volunteers to cancel. Volunteers will have an excused absence for the day.
---
Henry/Handler Volunteer Application
Applications for 2024 Henry/Handler will be going up Thursday, February 1st, 2024 at 12PM.
You can be the first to get the notification by joining our email list here.