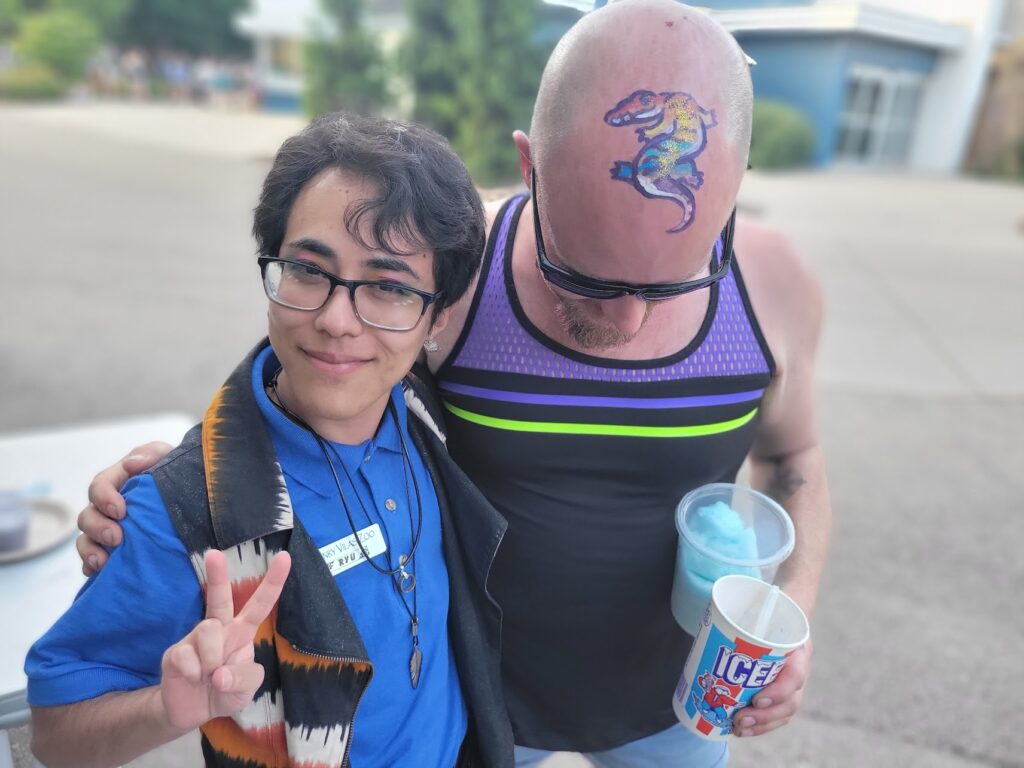 ROLE SUMMARY
This is a new role that we are experimenting with as an ongoing one for the 2024 season.
Face Painters bring color and glitter (the biodegradable kind!) to our guests on beautiful days and special events. HVZ provides all the supplies and practice for beginning to intermediate painters. Guild members are not professionals by any means – and that's just fine! This is an opportunity for interested volunteers to learn, practice and grow with a group of other crafty and enthusiastic artists.
"I made a kid look like a red panda! When are we doing this again?"

Morgan, Face Paint Volunteer for Boo at the Zoo
RESPONSIBILITIES
Paint faces!
Make guests smile and feel beautiful with paint and glitter
Help guests feel comfortable and heard while they're in the artist's chair
Properly clean and care for all supplies
Come ready to learn at Face Paint Guild monthly meetings
Communicate with HVZ staff regarding monthly volunteer schedule
Volunteering For All

Face Painting takes place in locations all throughout the Zoo depending on the day, weather, and event(s) going on. It involves using hypoallergenic, water-activated paint pallets. Painters regularly get paint and water on themselves. Painters are very close to kids and adults while painting. This role involves a lot of communication – both verbal and non-verbal – between the painter and the guest getting painted. Most painting will take place outdoors – weather allowing. In inclement weather, face painting will move indoors to our Guest Services building where we house our Ambassador Animals (reptiles, amphibians, invertebrates, and two hedgehogs).
---
Prerequisites

Currently an active HVZ volunteer in an ongoing role
Minimum of 20hrs of volunteer time with HVZ in 2023
---
Requirements & Skills

16+, or 14+ with completion of HVZ Teen Program
Able to hold a paint brush steady
Able to sit for 2-2.5hrs at a time
Enjoys meeting new people (especially kids!)
Can be patient and calm with wiggly subjects
Suggested for practice at home: A set of basic brushes and a single cake of paint
---
Time Commitment

4-5hrs/mo: Face Painters commit to a monthly 1-1.5hr guild meeting. Each meeting will end with volunteers scheduling a minimum of one 2-2.5hr shift for the following month. This shift can be any day/time, but will be informed by weather, events, etc.

The Face Painting Guild will run March through October. The first painting day will be in April. The last will be on Boo at the Zoo on Saturday, October 26th, 2024.
---
Training

All of these trainings are available as refreshers at any point upon request.

Online

Basic Face Paint Etiquette, Tools & Techniques (30min)

In-Person

Guild Meetings – Each meeting will focus on a different face paint skill. An example of this might be line work, where we practice tear drops, lines, swirls and dots. By the end of the season, volunteers should be comfortable with a variety of painting techniques.
---
Weather Policy

Henry Vilas Zoo is open regardless of weather. While we remain open, we trust our Face Painters to decide whether or not they would like to volunteer in light precipitation, cold/hot temperatures, etc. The volunteer is in charge of scheduling a make-up shift in the event they choose to stay home due to weather.

In the event of truly inclement weather, we will call volunteers to cancel. In this case, volunteers do not need to make up their cancelled shift.

All guild meetings are indoors.
---
Face Paint Guild Application
Applications for 2024 Face Paint Guild will be going up Tuesday, January 2nd, at 12PM. They will be available to those who meet the prerequisites only. The FPG has a maximum capacity of 10.
Wanting to get involved, but not yet ready? In the event we have space and/or capacity for more, we will be putting up the application again in late June. That will allow for enough time for interested volunteers to get their prerequisite hours.