NOVEMBER 25TH THROUGH DECEMBER 30TH, 5:30-9PM (VOLUNTEER SHIFTS ARE 5-9PM)
Thank you so much for joining our Zoo Crew this holiday season! Zoo Lights is one of the largest walk-through light shows in Dane County, and it takes all of us to light up the nights for our community!
Whether you've been volunteering at Zoo Lights for years, or are just starting off, this is an excellent way to get involved, give back and have fun!
Take a look at the event details and sign up below. Spots fill up fast, so don't delay!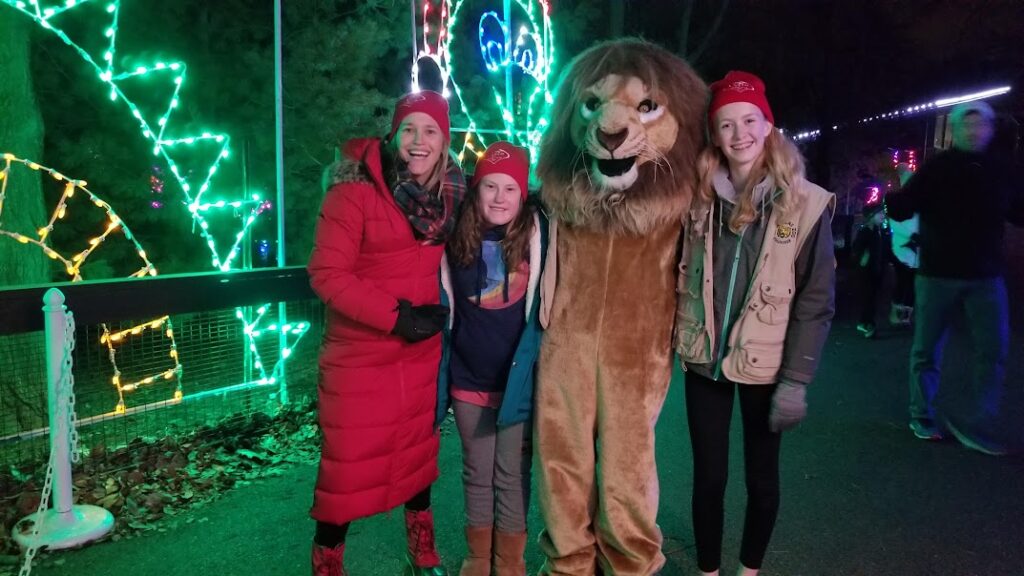 Who can do this?
This opportunity is open to any interested person who is at least 16yrs+ and/or who is 10-15yrs volunteering with a parent/guardian.
What do volunteers do?
We have three different roles available for interested volunteers:
Volunteer Role
Duties
Skills
Gate Greeters
Greeters welcome our guests at the front and back gates, scan tickets and help direct guests to where they need to go (information provided). They are the first human faces of the Zoo and set the stage for a beautiful and welcoming night.
This can be a fast-paced role that requires quick thinking and good organizational skills. Volunteers should be comfortable:
– being on their feet outside
– projecting positivity
– answering questions or directing guests to Zoo Lights staff
Santa's Helpers
Santa's Helpers welcome kids and families as the come to meet Kris Kringle. They chat with families as they wait their turn in line, and help guide families leaving. (Santa's Helpers do not handle guests' cameras or take photos.)
Santa can get quite popular! Santa's Helpers should be comfortable:
– being on their feet outside
– talking with kids and getting them excited to see Santa
– being patient with kids and families
Substitute
Substitutes are on call in the event we have Zoo Lights volunteers who need to drop for whatever reason. They're lifesavers! We will send a text asap when calling for subs.
Be a Santa's Helper or Gate Greeter. See above for details.
What can I expect?
First, expect to be talking with people! Zoo Lights is a time for staff and volunteers to be welcoming the community and engaging with our guests. Expect to be starting conversations and not just waiting for guests to come to you.
Second, expect Wisconsin winter to winter! Volunteer roles are primarily outside. You should be prepared for whatever temperatures or precipitation come our way. HVZ staff are there to support volunteers who m ay need a warming break or two during their shift. Our grille will also have hot chocolate available for purchase.
Finally, we couldn't light up the night without our volunteers! As a thank you, all Zoo Lights volunteers will receive:
1 pair of HVZ Zoo Lights gloves
1 free admission ticket to Zoo Lights for each night they volunteer. This can be used any night of Zoo Lights!
Discounts at our grille and gift shop during the month of Zoo Lights
I want to volunteer with a group!
Excellent! Due to the nature of Zoo Lights volunteer roles, you should work out ahead of time who wants to do what role – we put volunteers in groups of 2-3 depending on the role. You should also reserve your spot ahead of time. We have 11 spots available each night. Shifts fill up on a first come first served basis.
Can I volunteer multiple nights?
Yes! This year we're initially allowing interested volunteers to apply for up to 3 nights of Zoo Lights volunteering.
But I want to volunteer every night!
Initially limiting sign-ups to 3 nights allows us to have plenty of opportunities for everyone, and keeps us from any unnecessary scrambling should we need to suddenly fill several shifts.
---
Zoo Lights Volunteer Application
Questions about this application? Please contact us at: volunteer@henryvilaszoo.gov. We will get back to you asap.