Overview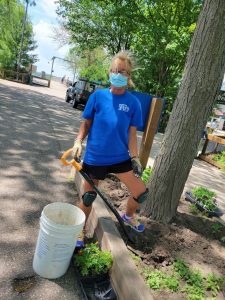 *This position is currently full. We will post should any gardens become available for adoption in the near future.
Help make our Zoo beautiful! Gardeners at HVZ set their own hours. This is an excellent opportunity for those who may want to be outside but not around many people, as gardeners can enter Zoo grounds along with staff starting at 8AM (HVZ opens to the public at 9:30AM).
HVZ provides basic training for gardening volunteers that includes a short tour of the grounds, an introduction to our operations staff, and an overview of gardening tools. HVZ provides gardening volunteers with basic tools. Gardeners can bring their own tools from home – provided they label them, and the tools do NOT include power tools. Gardeners are also prohibited from using or bringing in their own chemical gardening products of any kind.
Master gardeners strongly encouraged to apply.
Shift Times
Varied between the hours of 8AM and 5PM daily
Time Commitment
A minimum of a twice monthly commitment is required, weekly preferred in times of heavy rain when weeds try taking over.
Age Requirement
Must be 16+ (12+ with a parent/guardian)
Apply Now
Responsibilities
Provide general care and concern for designated garden/grounds area
Mulch, weed or water to help maintain the gardens
Plant new exhibits or beds as needed
Rake leaves and sweep grounds
Help with other gardening/grounds projects as available
Work with staff to recognize and eradicate invasive species
Qualifications
Able to sit, stand, lift easily
Able to stand or sit for 2 hours at a time
Able to work outside in all weather spring-fall (except in hazardous or overly-cold situations)
Has an interest in and some experience with plants
Training
General orientation (online), role-specific training will be provided on grounds from our volunteer & operations departments
Benefits
Volunteer outside at the Zoo, take advantage of quiet & cool morning hours, meet new friends, help create lasting memories for Zoo guests, volunteer t-shirt, volunteer nametag, recognition event(s).
Reports To
Henry Vilas Zoo Volunteer Department