Overview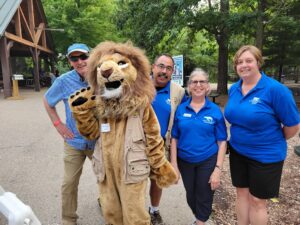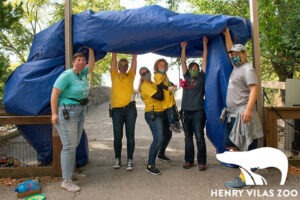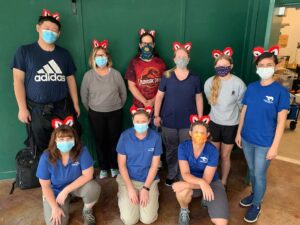 This position will open for experienced volunteers in 2023! However, you can fill out a Volunteer Interest Form here. We'll get you on our email list so you'll be the first to know when the role becomes available for the season.
Event Leads are an indispensable part of making events here at HVZ run smoothly!
Leads assist the volunteer coordinator and other staff by welcoming event volunteers, getting everyone checked in, and supporting volunteers throughout an event. Rather than committing to an ongoing schedule, Event Leads sign up for roles as they become available throughout the year.
Being an Event Lead requires a good deal of dedication. As an Event Lead you're the first volunteer to arrive and the last to leave. You will complete an Event Lead training with our Volunteer Coordinator, as well as onsite mentoring during one of our smaller events.
This is an excellent role for you if you're looking for an opportunity to grow, develop leadership skills and work closely with HVZ event staff.
Shift Times
Varied, generally evenings and weekends
Time Commitment
As needed
Age Requirement
18+
Apply Now
Responsibilities
Meet at Volunteer Central and check volunteers in for their shift and provide them with information specific to their role including:

Start/end time
Job duties and any relevant equipment/supplies necessary
How they can engage guests and any relevant education/conservation messaging
What to do if they need assistance during their shift
Communication during the event

Provide radios to volunteers as necessary
Check in with each volunteer every 30-45 minutes to offer a bathroom or water break, ensure things are running smoothly and answer any questions they may have
Release volunteers at the end of an event, and help teammates with any tear down
Skills
Excellent communication skills
Professional, patient and positive
Ability to confidently use a radio – both calling out and receiving calls
Ability to stay calm and communicate clearly in emergency situations
Ability to get from one end of the Zoo to the other within 5 minutes without running
Qualifications
18+
Physically fit(ish) – This role can require a lot of running around Zoo grounds
Complete prerequisite 50hrs of volunteering in a guest-facing role
Training
Event Lead Training with the HVZ Volunteer Coordinator
Reports To
HVZ Volunteer Coordinator