Overview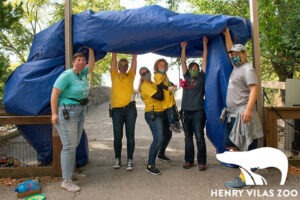 Event Leads are an indispensable part of making events here at HVZ run smoothly! Leads assist the volunteer coordinator and other staff by welcoming event volunteers, getting everyone checked in, and supporting volunteers throughout an event. Leads have a wide array of responsibilities, depending on the event. They are the first volunteers to arrive and the last to leave.
This is an excellent role for you if you're looking to get leadership, volunteer and/or event coordination experience.
Event Leads do not commit to an ongoing schedule. Rather, they are able to sign up for Lead roles as they become available for events throughout the year.
Role Requirements:
18+
Physically fit(ish) – This role can require a lot of running around Zoo grounds
Complete 50hrs of volunteering in a guest-facing role
Excellent communication skills
Professional, patient and positive
Shift Times
Varied, generally evenings and weekends
Age Requirement
Must be 18+
Apply Now
Responsibilities
Meet at Volunteer Central and check volunteers in for their shift and provide them with information specific to their role including:

Start/end time
Job duties and any relevant equipment/supplies necessary
How they can engage guests and any relevant education/conservation messaging
What to do if they need assistance during their shift
Communication during the event

Provide radios to volunteers as necessary
Check in with each volunteer every 30-45 minutes to offer a bathroom or water break, ensure things are running smoothly and answer any questions they may have
Help with clean up at the end of the event – check in with Event Staff
Training
General orientation (online), specific training (online or in person)
Benefits
Build Zoo, volunteer, and leadership experience on your resume, participate in out of the ordinary encounters and experiences, network with the community; help create lasting memories for Zoo guests, volunteer nametag and t-shirt, and recognition events.
Reports To
Henry Vilas Zoo Volunteer Department